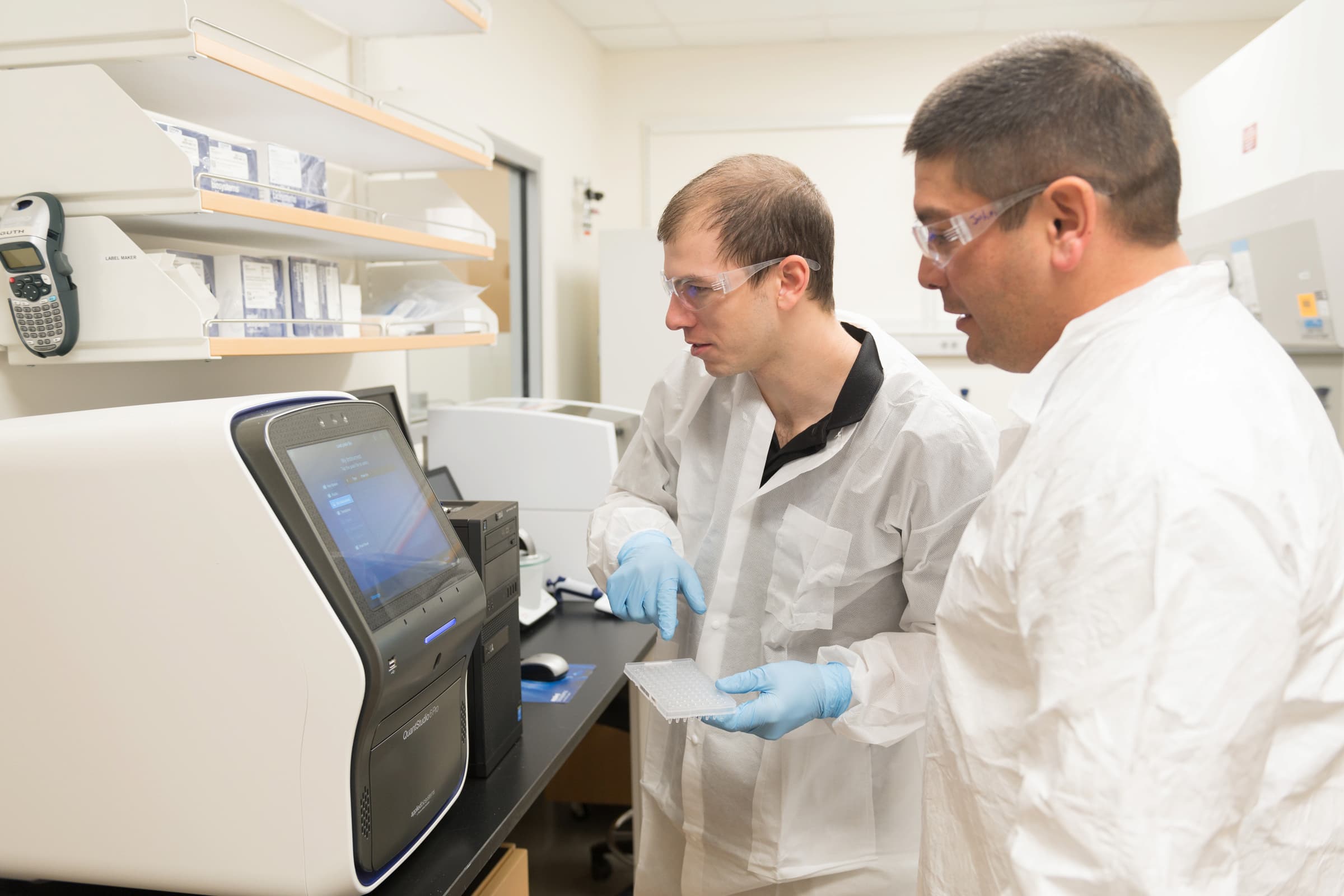 Center for Transboundary and Emerging Diseases
Combatting Emerging, Infectious Diseases in Animals
As part of our commitment to a healthier, more sustainable future, our scientists take a One Health approach to combating diseases that pose the greatest risk to animals and humans. One of our Driven to Care long-term sustainability targets is to provide our innovative vaccines to all relevant markets via tenders or other go-to-market pathways. We're proud to have provided vaccines for rabies to the WOAH vaccine bank and Classical Swine Fever to vaccine banks in the Netherlands and the U.S.
The work we do to combat emerging infectious diseases also supports our commitment to improve access to veterinary care in Sub-Saharan Africa. Learn more about our African Livestock Productivity and Health Advancement (A.L.P.H.A.) initiative here.
According to the World Health Organization, at least 75% of emerging infectious diseases have an animal origin. Meanwhile, other animal diseases can cause economic devastation.
Diseases we're focused on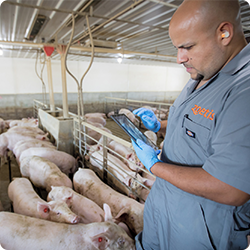 One of our scientists' top priorities is working on a vaccine for African Swine Fever (ASF), a highly contagious viral disease affecting domestic and wild pigs. While ASF is not a health danger to people, it can devastate pigs –mortality rates can reach 100% – and farming economies. In recent years, ASF has spread rapidly in China and southeast Asian countries as well as some European countries, and Caribbean island countries. ASF would devastate U.S. swine herds if the disease was found in the U.S.
In September 2019, Zoetis reached a non-exclusive license agreement with the United States Department of Agriculture (USDA) Agricultural Research Service (ARS) for the development and commercial production of African Swine Fever vaccines.
The agreement with USDA ARS gives Zoetis access to three patents related to ASF live attenuated vaccine strains.
USDA-ARS has conducted proof of concept studies that have demonstrated both safety and efficacy at various dose levels.
A critical step in delivering a commercial vaccine is establishing a scalable, stable cell line for vaccine virus production. Published vaccine efficacy studies have utilized primary cells to propagate the virus; however, transition to a manufacturing friendly cell line is challenging as it has been demonstrated that prolonged passage may lead to further adaptation of the viruses and consequently not suitable as vaccine candidates.
We are working on a Foot and Mouth Disease (FMD) vaccine to help protect cattle, pigs and sheep. This research is on-going through a collaboration with Texas A&M University.
While FMD is not harmful to humans, livestock animals worldwide are highly susceptible to FMD viruses. An unchecked spread of FMD could result in an economic impact of billions of dollars in the first year, devastate international livestock trade, and severely impact the livelihoods of farmers and ranchers. FMD does not affect horses, dogs, or cats, and is not a food safety threat.
As many countries across the globe are dealing with FMD in their livestock populations, the United States eradicated the disease here in 1929. The USDA's Animal and Plant Health Inspection Service (APHIS) works to ensure the continued health of our nation's livestock, including preventive steps to keep FMD from reentering the country.
In April 2018, as a first step toward FMD vaccine development for the U.S., the USDA granted Zoetis a select agent exclusion authorizing the company to develop vaccines using a modified, non-infectious FMD-LL3B3D vaccine platform in the U.S. Through its collaboration with Texas A&M, Zoetis is now moving forward to safely develop an FMD vaccine that is not infectious and cannot transmit among livestock in the U.S. With this vaccine platform, regulatory authorities and veterinarians may be able to distinguish between animals that have been vaccinated and those with natural FMD virus infection – which would help protect export markets for U.S.-raised meat.
The Secretary of Agriculture has authorized manufacture of the FMD-LL3B3D based vaccines in the United States.
Rabies is a zoonotic disease, with 99% of cases being from dogs to people. The World Health Organization estimates rabies kills 59,000 people each year, with 95% of cases in Africa and Asia. We're proud to provide rabies vaccines to the World Organization for Animal Health Rabies Vaccine Bank. This is one example where vaccinating animals, dogs in this case, can help save human lives.
The idea of "one health" – that animal health is linked to public health – was never more compelling than when the COVID-19 pandemic disrupted the world with tragic rates of human infection, serious illness and death, and economic devastation.
Zoetis initiated development activities for its COVID vaccine in early 2020 when the first dog was reported to be infected with COVID-19 in Hong Kong. The initial development work and studies were completed on dogs and cats, and our scientists shared their work at the World One Health Congress in the Fall of 2020 and the Veterinary Medicine Exposition and Conference in January 2022.
In January 2021, Zoetis donated its experimental vaccine for emergency use in the Great Ape population at the San Diego Zoo.
Since then, Zoetis has donated over 26,000 doses of its COVID vaccine to more than 200 zoos and conservatories in the United States, Canada plus a dozen other countries.
Our COVID vaccine has been used safely in over 300 mammalian species in these zoos.
In April 2022, the U.S. Department of Agriculture granted Zoetis a conditional license for mink for this vaccine.
We are proud to support zoo veterinarians in the care they provide to their special and unique animals.
Learn more about our zoo donation program for our COVID vaccine.
Lumpy Skin Disease
Lumpy Skin Disease affects cattle and water buffalo. It is endemic in most African countries, and the disease has been reported in recent years in China and southeast Asian countries. LSD is not zoonotic and thus not a health threat for people.
Lumpy skin disease has been detected in countries close to Australia, including Indonesia. It has never occurred in Australia but is an emerging threat as it continues to spread through Asia. The Australian Government is assessing the ability to import the live virus to potentially develop their own vaccines.
The EU has been offering financial and technical support for LSD vaccination and surveillance in EU and non-EU countries (including Türkiye). The European Commission is ready to support countries in South-East Europe through the vaccine bank should outbreaks spike again.
Highly Pathogenic Avian Influenza
Zoetis has a long history of quickly developing vaccines for Avian Influenza, beginning in 2001-02 when outbreaks occurred in flocks in Southeast Asia. In 2006, we utilized our reverse genetics system to develop and license an Avian Influenza H5N3 vaccine to address a global outbreak. Most recently, the U.S. Department of Agriculture (USDA) granted Zoetis a conditional license for Avian Influenza Vaccine, H5N1 Subtype, Killed Virus in 2016, which we supplied to USDA's National Veterinary Stockpile. As Avian Influenza continues to circulate around the world, Zoetis has an on-going study with the USDA to determine the efficacy of our vaccines against the current strain. In addition, we have an active surveillance program and are ready to rapidly develop vaccine candidates to support our poultry customers and government stockpiles should the need arise.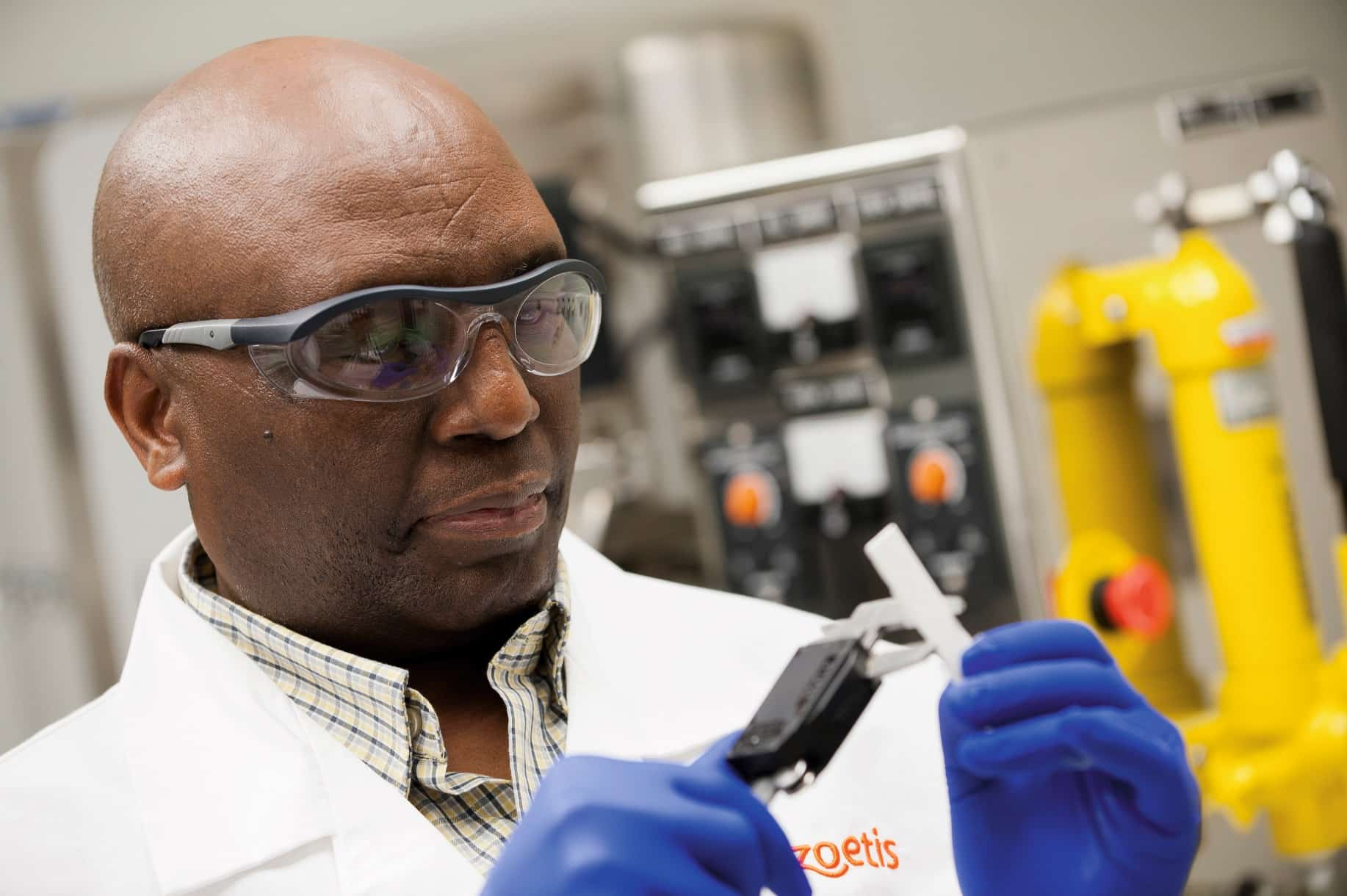 Events where our CTED scientists have presented
World One Health Congress
International Society for Vaccines Congress
World Vaccine Congress Washington
World Vaccine Congress Europe
Penn Vet Conference
Veterinary Comparative Respiratory Society Symposium
---
Links to Important Transboundary and Emerging Disease websites