Manufacturing & Supply
We know our customers depend on us to care for the animals in their lives and on their farms. That's why we put so much focus on ensuring a streamlined process for the reliable production and distribution of our life-saving products. Because we know a slowdown in our supply chain would risk more than just profits.
Our manufacturing facilities are built with safety and productivity in mind. With new facilities being built out across the U.S., Europe and Asia, we are laser focused on meeting the global demand for our products while maintaining the quality our customers have come to expect from us over the last seven decades.
Many of our R&D operations are co-located with manufacturing sites, which more efficiently brings our research projects to life for our customers. Our integrated supply network of around 30 plants works closely with local regulatory bodies where we operate to ensure we follow their guidelines.
From ensuring we have a steady supply of raw materials on hand to leveraging data analytics that help predict inventory levels, we are taking steps so the uncertainty of the world has no effect on your certainty in Zoetis.
On the Ground, on the Job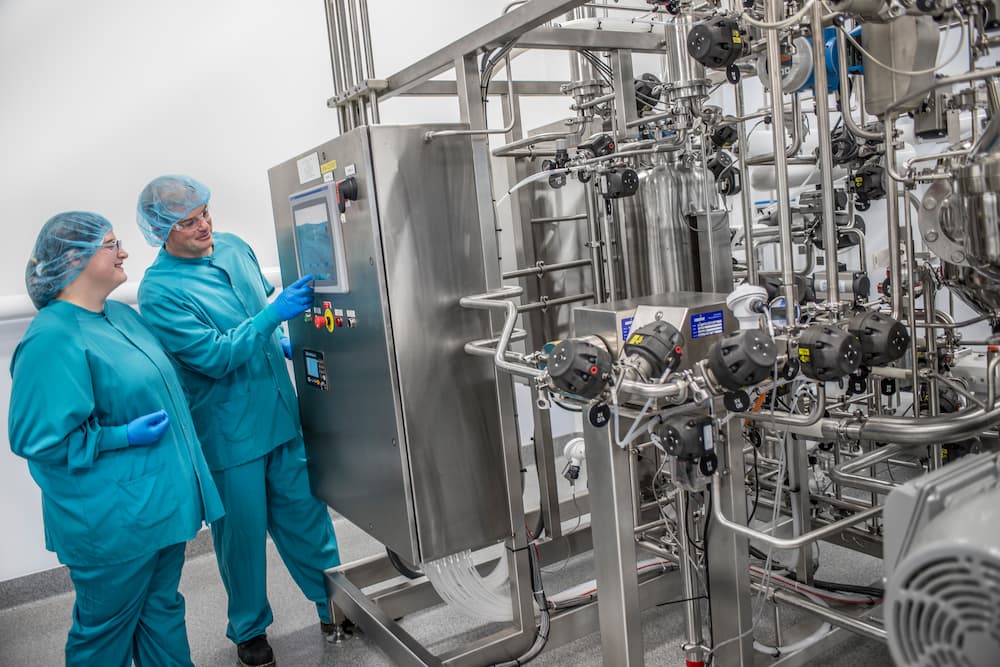 To get a feeling for what makes our Global Manufacturing & Supply (GMS) capabilities so agile and unique, one need look no farther than our U.S. based facility in Lincoln, Nebraska, which is one of our largest. The critical biologics and pharmaceuticals produced there help millions of animals around the world every single year.
In Lincoln, our ever-expanding team of over 800 GMS colleagues work side by side with R&D to develop and produce effective solutions to meet our customers' needs.
Our focus in Lincoln is not only on making products that do good, but also on doing good as we make those products. This is seen in our commitment to sustainability, which has resulted in a 50% reduction in energy intensity since 2012 (achieved while creating more products than ever), a reduction in plastic packaging of 20 tons per year, and recognition by the U.S. Department of Labor, Occupational Health and Safety Administration (OSHA) as a "Star Among Stars" site due to an exceptional culture of safety and continuous improvement.
Learn More About Our Global Manufacturing & Supply Sites
Zoetis in Kalamazoo, MI, U.S.A. (Global Manufacturing & Supply)
Where We Operate
Our manufacturing locations exist around the globe. Our network of sites, listed below, all work together to produce the products you and the animals in your life rely on.
Australia
Austria
Belgium
Brazil
China
Denmark
Ireland
Rathdrum
Tallaght
Tullamore
Italy
New Zealand
Norway
Spain
United States
Buellton, CA
Charles City, IA
Chicago Heights, IL
Durham, NC
Eagle Grove, IA
Kalamazoo, MI
Lincoln, NE
San Diego, CA
Salisbury, MD
Union City, CA
White Hall, IL
Willow Island, WV
Interested in Joining Our Team?
Search for Zoetis manufacturing and supply jobs near you.