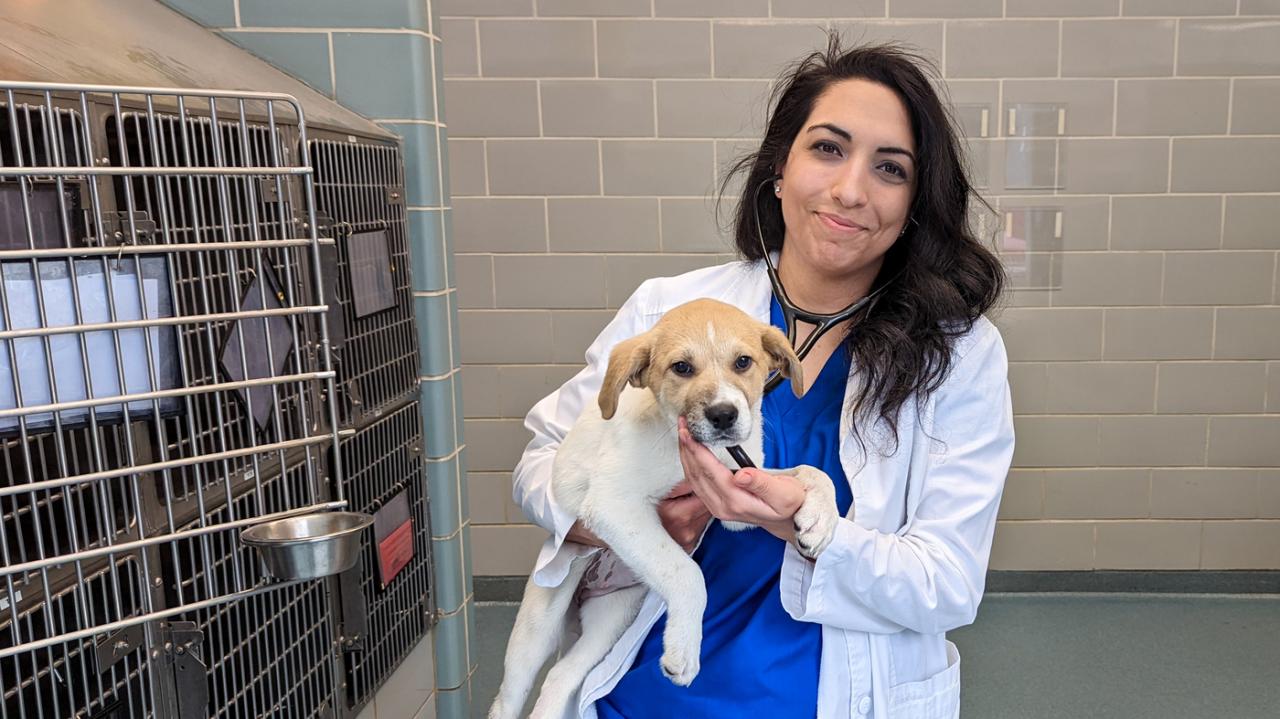 Prioritizing Mental Health and Well-Being of Veterinary Professionals
Dr. Razyeeh Mazaheri holding her patient. Dr. Mazaheri is a veterinarian who has engaged in the VHMI services (photo credit Mark Primiano).
May marks Mental Health Month, a time to raise awareness about the importance of mental health through support, education, and advocacy. Veterinary professionals can experience burnout, often working in high-pressure and emotionally taxing environments. Veterinary professionals struggle with high rates of anxiety, depression, and suicide, with nearly one-third of U.S. veterinarians reporting experiencing depressive episodes. Emphasizing the importance of well-being for veterinary healthcare teams and advancing solutions to address mental health challenges is fundamental to supporting veterinarians and to sustaining a thriving profession for those who provide such critical care for our animals.
This month, we're proud to spotlight the Shanti Project, an organization making a significant difference in the mental health of veterinary professionals worldwide. The Shanti Project's Veterinary Mental Health Initiative (VMHI), founded in 2021, is the preeminent program in the United States providing veterinarians with evidence-based, culturally competent, and multi-level mental health services by expert clinicians. With the Zoetis Foundation's grant, in 2022, VMHI reached 240 veterinary professionals. This included 480 individual therapy sessions that served 80 veterinarians, and 16 professionally facilitated support groups that served 120 veterinarians and 40 veterinary medicine professionals. The initiative has reached veterinary professionals in 38 states across the United States, and several countries around the world, including Canada, England, Spain, Italy, Germany, Australia, Nepal and China.
"Working with and caring for animals can be deeply meaningful and rewarding, and also presents veterinary professionals with unique challenges," said Jeannette Ferran Astorga, President of the Zoetis Foundation. "Shanti Project's work in helping provide a safe, supportive space to address these issues and concerns within the veterinary community is crucial to building a sustainable and thriving profession."
Participants in the VMHI share their experience attending individual and group support sessions, demonstrating the real impact the program has made on veterinary professionals and the urgent need for mental health services to address the unique challenges facing veterinarians.
"When I read through the information shared before the group, I began crying because I could identify so much with everything in it," shared a retired veterinarian who participated in the professionally facilitated support groups. "I wish there had been something like these groups when I was practicing. It would have changed my life."
VMHI's doctorate-level clinicians provide evidence-based coping skills to help participants deal with their challenges, which include personal and professional identity development, setting healthy boundaries with clients through effective communication, and managing realistic expectations regarding clinical skill building and expertise.
"We are deeply grateful to the Zoetis Foundation for its generous support in helping the Veterinary Mental Health Initiative serve veterinarians and veterinary professionals both in the U.S. and around the world.," said a Shanti Project representative. "We are thrilled and proud to collaborate with organizations assisting veterinary professionals with their careers and passions, while advancing their well-being."
In its second year of Zoetis Foundation funding, the Shanti Project aims to reach 272 veterinary professionals, supported by its 2023 grant. This includes 480 individual therapy sessions serving 80 veterinarians, and 16 six-week professionally facilitated weekly peer support groups serving 144 veterinarians and 48 veterinary medicine professionals. Funding will also support hiring VMHI's Program Director and consulting psychologists who co-facilitate peer support groups and facilitate one-to-one individual sessions.
Mental Health Month is an excellent opportunity to raise awareness about and prioritize mental health within the veterinary medicine community. Through the dedicated work of the Shanti Project, the Zoetis Foundation is elevating the importance of well-being for veterinary healthcare teams every day and helping to ensure a thriving and sustained veterinary profession.
To learn more about the Zoetis Foundation's commitment to supporting mental health within the veterinary field, read the spotlight of the 2022 well-being grantees here.
1 Associations among Stress, Anxiety, Depression, and Emotional Intelligence among Veterinary Medicine Students (2021)