Zoetis Named a High Quality Workplace in China
June 1, 2018
China Business Network recognized Zoetis with a Best Practice Award
Zoetis was recently recognized with a Best Practice Award as part of the Alpha i High Quality Workplace Index from China Business Network, a well-known Chinese news source. Acknowledged especially for our commitment to social responsibility by advancing animal health and public welfare, Zoetis was one of twelve employers awarded in the Best Practices category, aside other highly reputable global corporations.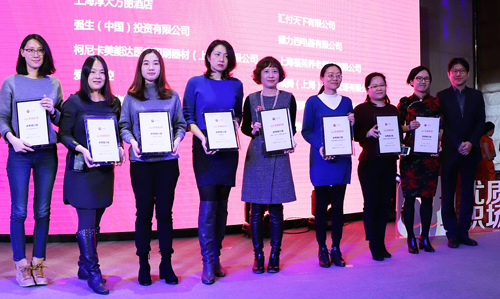 Joy Yang (fifth from left), China HR Lead, with other
prize winners at the Award Ceremony
"It is a great honor to be recognized as a High Quality Workplace in China," said Mike Wang, Senior Vice President, Greater China Cluster. "This recognition is a testament to the commitment of our colleagues and their focus on our customers and the animals in their care."
In order to be considered for the award, Zoetis Human Resources colleagues submitted a self-assessment; 50 Zoetis China colleagues completed a survey focused on benefits, colleague development and engagement; and the company presented two case studies demonstrating how Zoetis brings value to society in China. The cases submitted were "Zoetis Academe," a training program for pig farmers that has improved the breeding industry in China by guiding more than 10,000 people since 2009; and the "World Veterinary Day 5K Charity Run," an annual fundraising event organized by Zoetis to protect the health of stray animals and promote pet adoption.
Providing A Workplace Where Colleagues Feel Valued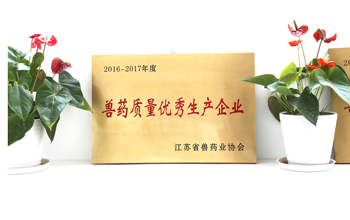 In addition to being recognized as a High Quality Workplace, Zoetis has also been recognized in China with other designations that reflect our culture grounded in our Core Beliefs, with integrity, accountability, collaboration and customer focus as the hallmarks of our success.
The Zoetis Suzhou manufacturing site has been named an "Excellent Quality Manufacturing Enterprise of Veterinary Drug in Jiangsu province" every year since 2007, a recognition that has greatly enhanced the company's reputation. The Suzhou site conscientiously implements Good Manufacturing Practice (GMP) standards of veterinary drug, pays close attention to product quality, and operates with honesty and self-discipline. Zoetis Suzhou is leading the animal disease prevention and control and the animal husbandry healthy development, playing an advanced role in the industry.
For more information about Zoetis in China, visit the Zoetis China website.