Why Customer Experience Matters
December 6, 2017
Kristin Peck, Zoetis Executive Vice President and President, U.S. Operations, shares an editorial about why customer experience matters and how Zoetis is raising the bar to enhance customer connections.
Kristin Peck, Zoetis Executive Vice President and President, U.S. Operations, shares an editorial about why customer experience matters and how Zoetis is raising the bar to enhance customer connections.
Zoetis customers and the animals in their care are at the heart of everything we do – and our relationships with them run deep. In that spirit, I recently hosted an Executive MBA class at Columbia University to share a glimpse into Zoetis's philosophy, plans and progress in the area of customer experience. We have come a long way in enhancing our understanding of customers and more importantly, how they are thinking about Zoetis!
More Than A Buzzword
I know that to many, customer experience sounds more like a buzzword than a concrete discipline. The reality is that customers are no longer buying products and services; they are buying experiences that we are delivering to them through our products, services and people.* Therefore, our success depends on building lasting, emotionally connected relationships with our customers that are both meaningful and measurable.
Thinking Like the Customer
Our journey in customer experience began with investing time and effort around knowing who the customer is, how they see us, and how we can best support them. We recently implemented a new customer segmentation process that analyzed all aspects of a customer's business and what drives their decisions. As a result, our sales and service teams can shift their approach to fit that customer. For example, a small companion animal clinic will have very different needs than a corporate veterinary customer. We are using this analysis as guidance for how we can meet our customers where they want to see us, when they want to see us – whether it's in person, on the phone, or online.
Projecting One Voice
Knowing our customers better leads to stronger connections with them. Our colleagues build relationships with customers by consistently delivering exceptional experiences. Each time they answer the phone, send an email, address a question, or fulfill an order, it is a point of engagement with Zoetis. Every interface to the customer should express how Zoetis is reimagining animal health – a brand promise that we strive for our customers to experience every day, and a reminder to our colleagues of what we need to accomplish. We are working closely with our sales and marketing teams to ensure that we deliver a more unified, consistent message and tone across all of our customer interactions.
Better Listening, Building Trust
We're also working hard to better listen and respond to customer issues. Through a new customer response platform called Service Cloud, our contact center representatives now have greater visibility and accountability across our 70,000 customer interactions. From the moment a customer contacts our operations center in Exton, PA, our reps can immediately see that customer's case history and they know who is on point to resolve a particular issue.
More than anything, customer experience is about building and maintaining trust. This is especially critical when things go wrong because at some point they do, whether it's a botched delivery, a back-ordered product or a natural disaster. Our customers want us to let them know what is going on, to say we are sorry, and that we'll work hard to make things better as soon as we can. Trust is also about being there when customers are suffering and need our assistance. I am very proud of how our colleagues across Zoetis went above and beyond during the recent hurricanes in the U.S. and Puerto Rico to provide emergency medicines and other resources our customers needed to save the animals in their care.
Measuring Experience
Now that we know the makings of a great experience, how do we measure it? Our baseline is focused around two metrics: Company Satisfaction (CSAT) and Net Promoter Score (NPS). CSAT tells us how customers feel overall about a company, whereas NPS is more transactional – telling us how likely that customer is to recommend Zoetis to a friend. When we interviewed a sample of customers, they told us they choose a partner based on such factors as trust, consistency, the personal relationship they have with their Zoetis representative, and clear communication. Product and service innovation are also very important, but many of these drivers speak to the core emotional needs that customers have, and they expect them to be met.
Big Data, Bigger Insights
When we understand our customers' overall needs, we can then use big data to gain deeper insights into what customers buy and how. In turn, we can target our solutions to fit their preferences. One example is a model we created for our Cattle team to predict future salesusing external market data from outside sources like Cattlefax (a leading research firm for beef and other animal protein sectors). Using this model, we've been able to ensure we have adequate supply of key products at critical times for our customers.
The Journey Continues
We've made a lot progress so far, but I'm mindful that customer experience is a journey. We are constantly learning and refining the ways we connect with customers so they come to rely on us, and want to buy from us time and again. There is a great quote from American poet Maya Angelou that summarizes our customer experience goals the best. She said, "People may forget what you said or what you did, but they will never forget how you made them feel."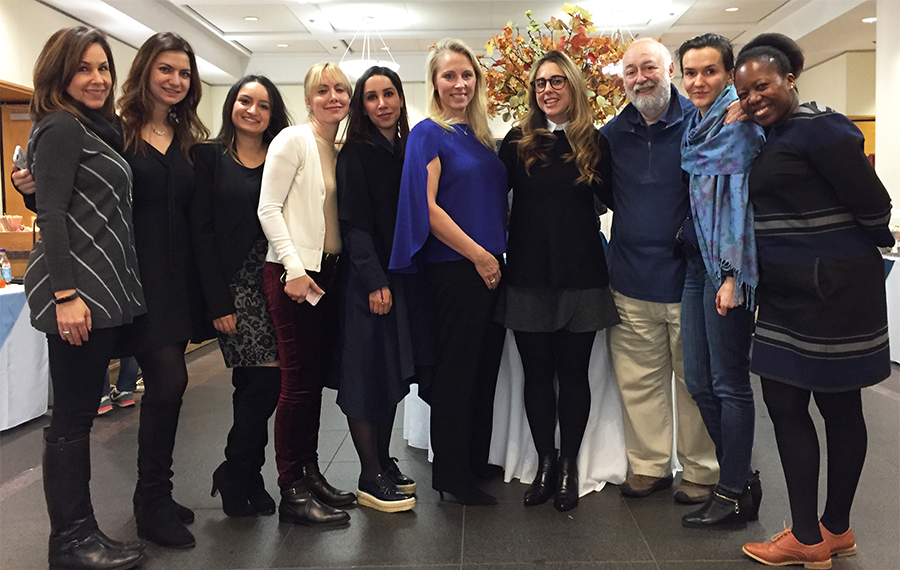 Kristin Peck (center) with Columbia University Executive MBA students.