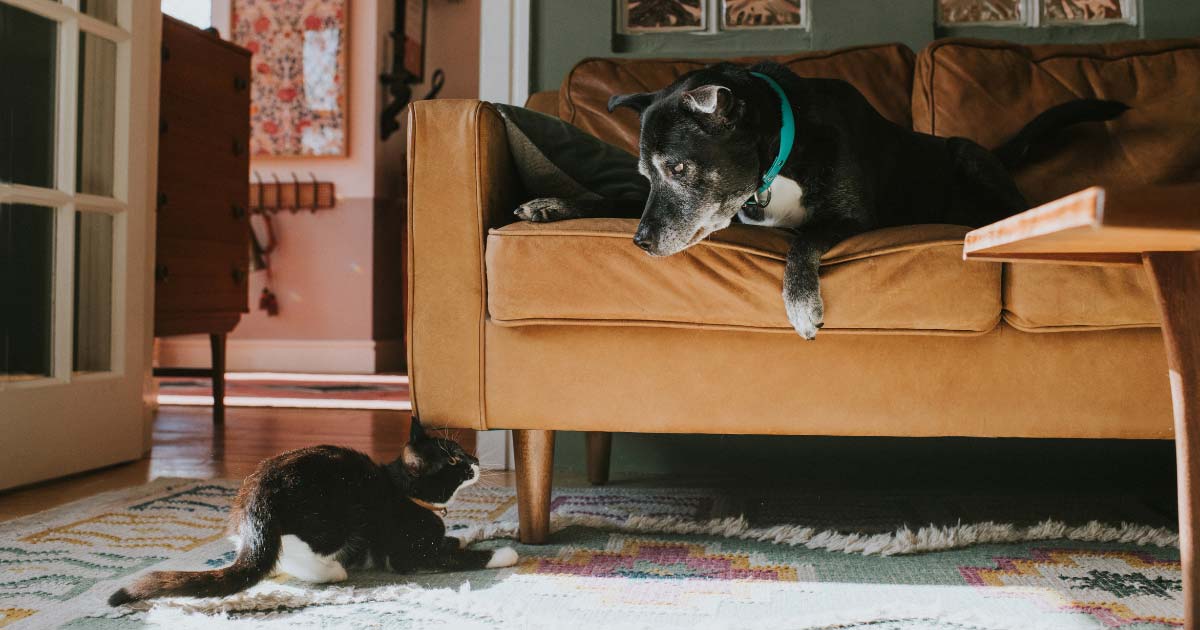 Veterinarians Care for Both Ends of the Leash
As veterinarians, it's not just the oath we take to ease the pain and suffering of animals, but also the unspoken oath that we are responsible for the family who loves the pet as well. At our core, companion animal veterinarians serve to protect and restore animals back to health so that the human-animal bond is maintained and even improved. Veterinarians aren't just animal caretakers – they're part of the public health ecosystem and play a crucial role in the human-animal bond.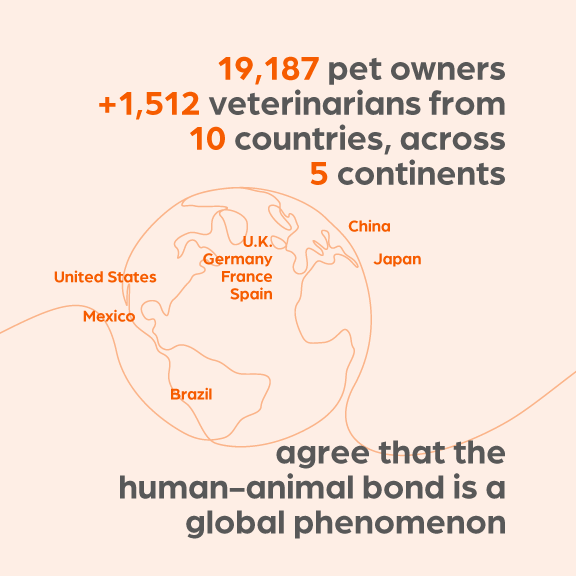 The bond between humans and animals can improve our mental, emotional and even physical health. I've seen this bond firsthand, both personally and professionally, and I was especially excited when the Human Animal Bond Research Institute (HABRI), in partnership with Zoetis, commissioned a survey of 19,187 dog and cat owners and 1,512 small animal veterinarians from 10 countries, across 5 continents, including Brazil, China, France, Germany, Japan, Mexico, Spain, the United Kingdom, Australia, and the United States, to better understand how veterinarians and pet owners think about the human-animal bond. At the onset of the survey, we weren't confident about how the bond would translate in different markets, countries and cultures. However, the results were overwhelmingly clear and affirmed what we knew to be true – the human-animal bond is a global phenomenon, and it has important implications for the health of pets and their owners, as well as the health of the veterinary profession.
According to the study, the strength of the bond showed a significant, positive correlation with whether pet owners had engaged in a variety of preventive treatments and whether they had consulted a veterinarian for specific symptoms experienced by their pets. As I've mentioned many times in my Vet Visit podcast, we've enjoyed watching our pets move from the backyard, into our homes and now even into our beds over the past few decades. As the relationship between humans and their pets evolves, so does the realized need for proper care and attention – especially when your pet is suffering from pain (e.g. osteoarthritis) or disease.

How Chronic Pain Can Break the Bond
Allowing chronic pain to go untreated may be the most effective way of damaging the bond long-term, and sometimes irreparably, because chronic pain reduces all the benefits the pet owner receives from the bond. Take, for example, dog owners. They benefit from regular exercise, which can include walking, jogging, or simply playing in the backyard two to three times per day. That stops with chronic pain because the pet no longer has the physical strength to do so, which causes them to sleep more and be less active during the day. While this has an impact on the dog, it also has an impact on the relationship between the owner and the pet.
On the other hand, recognizing pain in cats can be challenging. Some cat owners recognize changes in their cat's behavior but may think they are a natural part of aging or may wait until the cat is showing very severe signs of pain. Cats, unlike dogs, are adept at concealing signs of pain that would otherwise be interpreted as weakness in the wild. According to research, 40% of all cats worldwide1 show signs of OA pain. Our goal as veterinarians is to properly educate pet owners about what to look for in terms of signs of pain, and I believe most cat owners will feel compelled to act.
Additionally, when pet owners understand that their pet's health may be intrinsically linked to their own, they may be more encouraged to schedule regular checkups. In fact, research shows the most successful veterinary practices are those that focus on nurturing the human-animal bond. Research has also shown that 91% of pet owners say they will take better care of their pet, including keeping up with vaccines and preventive medicine when they know more about the science of the human-animal bond. In my conversation with Dr. Bea Monteiro during an episode of my Vet Visit Podcast, we talked about pet pain management and how the human-animal bond plays a role in the veterinary profession on a global scale. According to Dr. Bea, the bond provides an opportunity to improve the health and well-being of pet parents, veterinary professionals, and animals. Communication between pet parents and veterinarians becomes easier if pet parents are more engaged with their animals because owners will feel empowered as members of the healthcare team. The more we learn about the human-animal bond, the more veterinarians will embrace their role in society in promoting both human and animal well-being.
Game-Changing Medicine Helps Control OA Pain
Zoetis' innovations in the field of monoclonal antibodies offer game-changing medicine for both cats and dogs as it pertains to alleviating OA pain. Introduced in Europe, the U.S. and other countries around the world, Solensia™ (frunevetmab injection) is the first and only once-monthly monoclonal antibody (mAb) for the control of OA pain in cat, and Librela™, which was launched in 2021 in the European Union, United Kingdom, and Switzerland and recently in the U.S., is the first monoclonal antibody approved to alleviate OA pain in dogs. Both innovative solutions offer a better way to deliver relief and help restore a pet's quality of life – and do it without harming the human-animal bond.
According to the Universal Human-Animal Bond study, we found that a more concerted effort by veterinarians to study, communicate and strengthen the human-animal bond has the potential to positively impact animal welfare and human health on a global scale. Still, there are obstacles that veterinarians face around the world. Veterinarians in some markets don't have the education that allows them to understand behaviors they should be looking for in animals and what tools they should use. Additionally, access to drugs, fear of adverse effects, and compassion fatigue all play a role in how well a veterinarian can do their job. I believe our greatest responsibility as a veterinarian is to preserve, protect and restore this bond, which is why it's so important that veterinary professionals everywhere understand how to diagnose and treat chronic pain.

Together with the WSAVA Global Pain Council (GPC), Zoetis has launched the WSAVA Certificate in Pain Management. The Certificate's educational content is based on the updated Global Guidelines for the Recognition, Assessment and Treatment of Pain, which will provide practical help to veterinary professionals who wish to refresh or deepen their knowledge in this area. I highly encourage all veterinarians and technicians, especially those still in clinical practice, to not just read this document, but understand it.
When you reduce everything to its most basic form and outcome, our ultimate objective is to restore the animal back to health so that the bond can be maintained or improved, because we, as veterinarians, are equally responsible for the other end of the leash.
Dr. Mike McFarland, Chief Medical Officer at Zoetis

Published on October 24, 2023
---
Librela™ Important Safety Information
See Full LIBRELA Prescribing Information. For use in dogs only. Women who are pregnant, trying to conceive or breastfeeding should take extreme care to avoid self-injection. Hypersensitivity reactions, including anaphylaxis, could potentially occur with self-injection. LIBRELA should not be used in breeding, pregnant or lactating dogs. LIBRELA should not be administered to dogs with known hypersensitivity to bedinvetmab. The most common adverse events reported in a clinical study were urinary tract infections, bacterial skin infections and dermatitis.
Solensia™ Important Safety Information
See full Solensia prescribing information. For use in cats only. Women who are pregnant, trying to conceive or breastfeeding should take extreme care to avoid self-injection. Hypersensitivity reactions, including anaphylaxis, could potentially occur with self-injection. Solensia should not be used in breeding cats or in pregnant or lactating queens. Solensia should not be administered to cats with known hypersensitivity to frunevetmab. The most common adverse events reported in a clinical study were vomiting and injection site pain.
1 Zoetis Market Research: KG MarketSense 2018.