Making a Positive Impact
November 9, 2020
Colleagues around the world support their local communities
At Zoetis we have always operated with sustainability in mind, and in August we introduced our new approach to sustainability and explained how it will create long-term value for our business, our customers, and the world we live in. As part of our commitment to sustainability, we have implemented a new Volunteer Time Off program to encourage colleagues to volunteer in their communities, share their resources and expertise, and participate in other activities to make a positive impact in the world we operate. Keeping spirits high is especially important amid the COVID-19 pandemic when so many are faced with difficulties. Read on to learn how our colleagues have been lending a helping hand in their local communities.
Helping Animals in Need
It's no surprise that many of our colleagues spend their volunteering efforts in the service of animals in need – a love for animals is part of why they are passionate about working at Zoetis! Tatum Stopperich, Associate Inside & Digital Sales Representative, Emerging Accounts, spent her Volunteer Day at a thoroughbred rescue center in West Chester, PA where she helped groom, feed, and walk retired and rescued racehorses. "It felt really good to use my time to help these amazing animals, and also do some hands-on work in one of my favorite settings: a horse farm!" said Tatum.
Tracey Deiss, Professional Services Veterinarian, U.S. Petcare, volunteered her services with the Fort Bend County Animal Shelter, where she helped vet over 40 animals, including performing spays, neuters, infectious diseases screens, vaccinations, and Proheart 6 injections. She said, "I felt so grateful to be part of helping the homeless pet population of the shelter prepare for adoption! I ended the day with an exhausted body and replenished spirit!"
Some colleagues used the opportunity of a Volunteer Day to add to charity work they were already doing. For example, Veronica Iocona, Process Manager, Corporate Treasury and Accounting Systems, shared her inspiring commitment to her own nonprofit, Senior Cat Action Network, which advocates for senior cats (aged 15+) by partnering with rescues to fund the medical costs of aged felines in their care. In just over two months, Veronica's organization has helped three cats by providing funding to cover the cost of feeding tubes, echocardiograms, ultrasounds and dentals. Veronica volunteers nearly every day before and after work to advocate for these cats.
In South Africa, Zoetis colleagues celebrated World Animal Day with a collaborative volunteering effort to help in the Vaal Animal Clinic vaccination drive. Mandy Albertyn, sales representative, also used the chance to share information about Simparica with pet owners.

Supporting Our Communities
Zoetis colleagues have an opportunity to serve the cause is close to them. For Dustin DeVries, Global Talent Acquisition Lead, it was spending some quality time with his daughter cleaning up four girls' softball league fields and surrounding grounds. Dustin said, "I'm proud that Zoetis is giving colleagues the opportunity to give back, and in this case, also teach our children about the value of community service and why volunteerism is so important."
Caroline Healey and Melissa Bailow, Associate Inside & Digital Sales Representatives, used their Volunteer Days to make food for 80 people at the Dorothy Day Room food pantry and homeless shelter. Giving her time to feed those in need provided nourishment for Caroline, too: "I am so happy we were given the time to do this, I knew there was a need for it but life has been so busy I had not taken the time to get involved in this center. I have now met and formed relationships with them and will continue to give my time!"
Colleagues at the Zoetis Colorado State Incubator (ZINC) found a safe, socially distant way to give back. The team met via WebEx to get together to make cards for the Cardz for Kidz project, a non-profit that delivers handmade cards to children and seniors in need around the world. The team made over 50 cards that were boxed up and shipped to the organization for distribution. "It was a great way to make kids and senior feel loved and an activity that our small Zoetis team here in Colorado could participate safetly in," said Amanda Guth, Principal Scientist, ZINC.
With schools opening again amid the pandemic, Zoetis colleagues in South Africa have visited 16 schools as part of the Youth Foundation Program, an initiative that marries government and industry to provide better vocational training for the country's youth. Zoetis is a proud sponsor of this program, providing medication donations and sharing time and expertise with all the agricultural schools involved with the program.
Promoting Equality and Inclusion in Agriculture
Fostering diversity and inclusion is a key element of our approach to Sustainability. Just as we strive to promote a culture of Diversity, Equity, & Inclusion at Zoetis, our colleagues in Spain are also making efforts to promote these values in the agricultural community. The Spanish team established a Livestock Prize for Women to celebrate leaders in the country's animal husbandry business.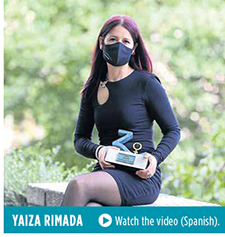 This year's winner is Yaiza Rimada, a dairy cattle farmer and founder of La Saregana, a family business dedicated to the production of milk, yoghurt, cheese, and butter. Yaiza has shown incisive agricultural management skills, greatly improving the family business that she took over in 1997. The campaign around the award received significant press coverage, raising awareness in the industry about the great impact women are making.
Susana González, Director, Human Resources, Southern Europe Cluster said, "Yaiza is a wonderful example of today's livestock woman, for the passion she puts in her company, in the care of her animals, and in the elaboration of those natural artisanal products because of her ability to innovate and reinvent when things weren't going so well, and for understanding the importance of continuous training for her business."