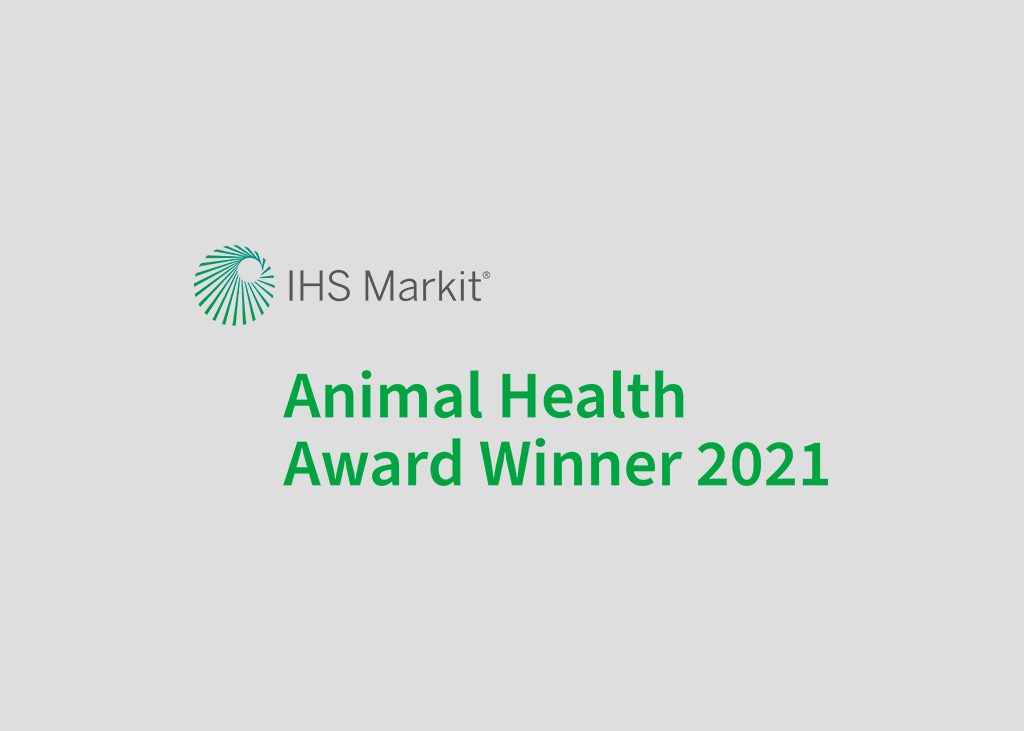 Librela Wins Best New Companion Animal Product
November 17, 2021
First monoclonal antibody approved to treat OA pain in dogs wins IHS Markit award.
In its annual Animal Health Awards, IHS Markit Connect honored Zoetis product Librela® as the Best New Companion Animal Product for 2021. The award is given to a product that was commercially launched or completed its first full year of sales in 2021. This is now the second consecutive year that a Zoetis product has won this category, with Simparica Trio® taking the prize last year.
Launched in the European Union, United Kingdom, and Switzerland in 2021, Librela (bedinvetmab) represents a new era in pain management, as the first monoclonal antibody approved to alleviate osteoarthritis (OA) pain in dogs.
Librela combines one month of pain control and increased mobility with a proven safety profile.
Zoetis' nomination of Librela highlighted the following points:
Librela works differently from other pain medications. Librela has a unique mode of action, inhibiting Nerve Growth Factor—a key player in osteoarthritis pain.
Veterinarian and pet owner feedback has been overwhelmingly positive for Librela. Veterinarians are expressing their feedback with words such as 'miracle', 'amazing' and 'game changer'.

"Monoclonal antibodies are a real game changer for veterinarians in OA pain management." Dr. Thierry Poitte (France)
"Librela is a game changer for me in a number of ways. I'm impressed by the data demonstrating reduction in pain scores, increases in quality of life and a very low level of adverse effects. NSAID intolerance can be a real issue in successfully treating osteoarthritis and I look forward to offering an effective option to this group of dogs." Dr. Matt Gurney (U.K.)
"…Anti-NGF therapy could be the most exciting therapeutic advance in more than 20 years in veterinary medicine to control osteoarthritis associated pain." Dr. Duncan Lascelles – professor of surgery and pain management at North Carolina State University
Additionally, Zoetis CEO Kristin Peck, was honored as Visionary CEO in this year's awards. "Although Kristin Peck has only been an animal health chief executive for a comparatively short time to other leaders, her impact on the entire industry has been unquestionable," wrote IHS in its article announcing the award winners.
The annual industry awards honor achievements within the animal health sector over the calendar year. Subscribers can nominate companies, products and employees in 12 award categories. A panel of judges comprised of industry experts evaluates the nominations and selects the winners.
In past years, Zoetis has been awarded with Best New Companion Animal Product for Simparica Trio (2020), Best Company – North America (2019), Best New Product – Companion Animal for Core EQ InnovatorTM (2018), and Cytopoint® (2016) as well as Best New Product Portfolio – Companion Animal for new canine products launched in 2016, including Cytopoint®, Simparica® (sarolaner) and Vanguard® vaccines. Additionally, Pharmaq was named Best Company in Europe in 2015, the year it was acquired by Zoetis.