Kristin Peck Presents at J.P. Morgan Healthcare Conference
January 15, 2020
Discusses how Zoetis will lead animal health across the Continuum of Care
Discusses how Zoetis will lead animal health across the Continuum of Care
Kristin Peck presented at the J.P. Morgan Healthcare Conference on January 14, 2020, marking her first appearance as CEO of Zoetis at this important industry event. The meeting, held every January in San Francisco, CA, is the premier investor event for the healthcare sector and is attended by more than 9,000 pharmaceutical executives, investors and financial analysts.
Leading Animal Health Across the Continuum of Care
In her presentation, Ms. Peck discussed the trends shaping the future of animal health and Zoetis' strong track record of performance in this dynamic market. Her remarks highlighted how Zoetis is well-positioned as the leader in animal health thanks to the diversity of its portfolio and emphasis on providing customers with integrated solutions across the continuum of care. She also outlined the five priorities that Zoetis will focus on in the next phase of its journey, which include:
Driving innovating growth
Enhancing the customer experience
Leading in digital and data analytics
Cultivating a high-performing organization; and
Championing a healthier and more sustainable future
"We work every day to be the partner of choice for customers around the world, and we are strategically investing to ensure that we remain the leader in animal health," said Ms. Peck. "I am incredibly confident in our future, and excited to be leading Zoetis into our next stage of growth."
Replay and Presentation Materials Now Available
If you would like to watch a replay and view the materials from Ms. Peck's presentation at J.P. Morgan, visit the Investor section of Zoetis.com.
Debut on CNBC's 'Mad Money' Television Program
While at the conference, Ms. Peck made her debut on CNBC's Mad Money with Jim Cramer. Watch the interview here.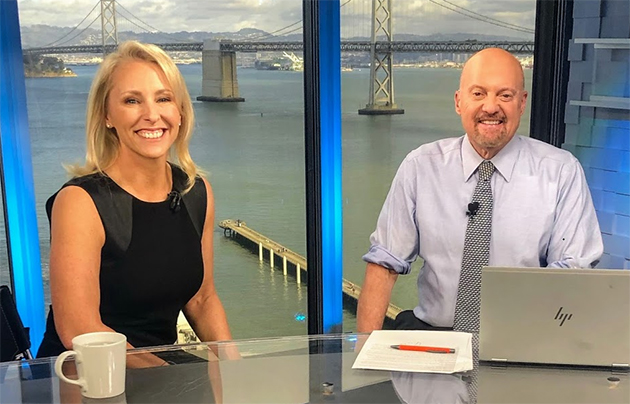 Kristin Peck with Jim Cramer, host of CNBC's 'Mad Money' television program.