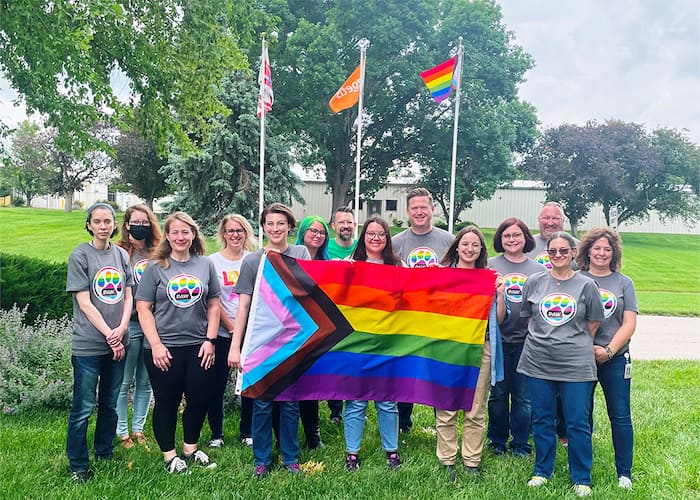 Best Place to Work for LGBTQ+ Equality
January 27, 2022
Zoetis achieves 100% score on Corporate Equality Index for 2022.
Zoetis received a score of 100 on the Human Rights Campaign Foundation's 2022 Corporate Equality Index, the nation's foremost benchmarking survey and report measuring corporate policies and practices related to LGBTQ+ workplace equality. This is the second external recognition of our dedication to LGBTQ+ individuals in the CEI and we join the ranks of over 840 major U.S. businesses that also earned top marks this year.
These results show that Zoetis is not only promoting LGBTQ+ friendly workplace policies in the U.S., but we are also one of the CEI-rated companies with global operations helping to advance LGBTQ+ inclusion internationally. "We are proud of our efforts in satisfying all of the CEI's criteria to earn a 100 percent ranking and the designation as one of the Best Places to Work for LGBTQ+ Equality for the second consecutive year," said Roxanne Lagano, Executive Vice President and Chief Human Resources Officer and Global Operations.
Promoting a LGBTQ+ friendly workplace: Our Zoetis policies and programs
"Our Core Belief that Our Colleagues Make the Difference exemplifies how our differences make us stronger as an organization. We will continue to elevate and celebrate the contributions of our LGBTQ+ colleagues in partnership with our PAW Colleague Resource Group (CRG) members. We will also continue to focus on the policies, programs, support and education that are needed," said Evelyn Ortiz, Chief Talent, Diversity, Equity & Inclusion Officer.
Zoetis policies and programs for our LGBTQ+ colleagues include:
Expanded parental leave for all new parents in the U.S., including for adoptions, fathers and same-sex partners;
Pride at Work (PAW) CRG, dedicated to supporting LGBTQ+ colleagues and allies;
U.S. benefits that support our colleagues, including enhanced gender transition benefits, surrogacy and adoption benefits; and
Internal education programs focused on ensuring an inclusive work environment.
About the CEI Ranking
The CEI rates employers providing these crucial protections to over 18 million U.S. workers and an additional 17 million abroad. Companies rated in the CEI include Fortune magazine's 500 largest publicly traded businesses, American Lawyer magazine's top 200 revenue-grossing law firms (AmLaw 200), and hundreds of publicly and privately held mid- to large-sized businesses.
Their detailed criteria fall under four central pillars:
Non-discrimination policies across business entities;
Equitable benefits for LGBTQ+ workers and their families;
Supporting an inclusive culture; and,
Corporate social responsibility.
The full report is available online at www.hrc.org/cei.