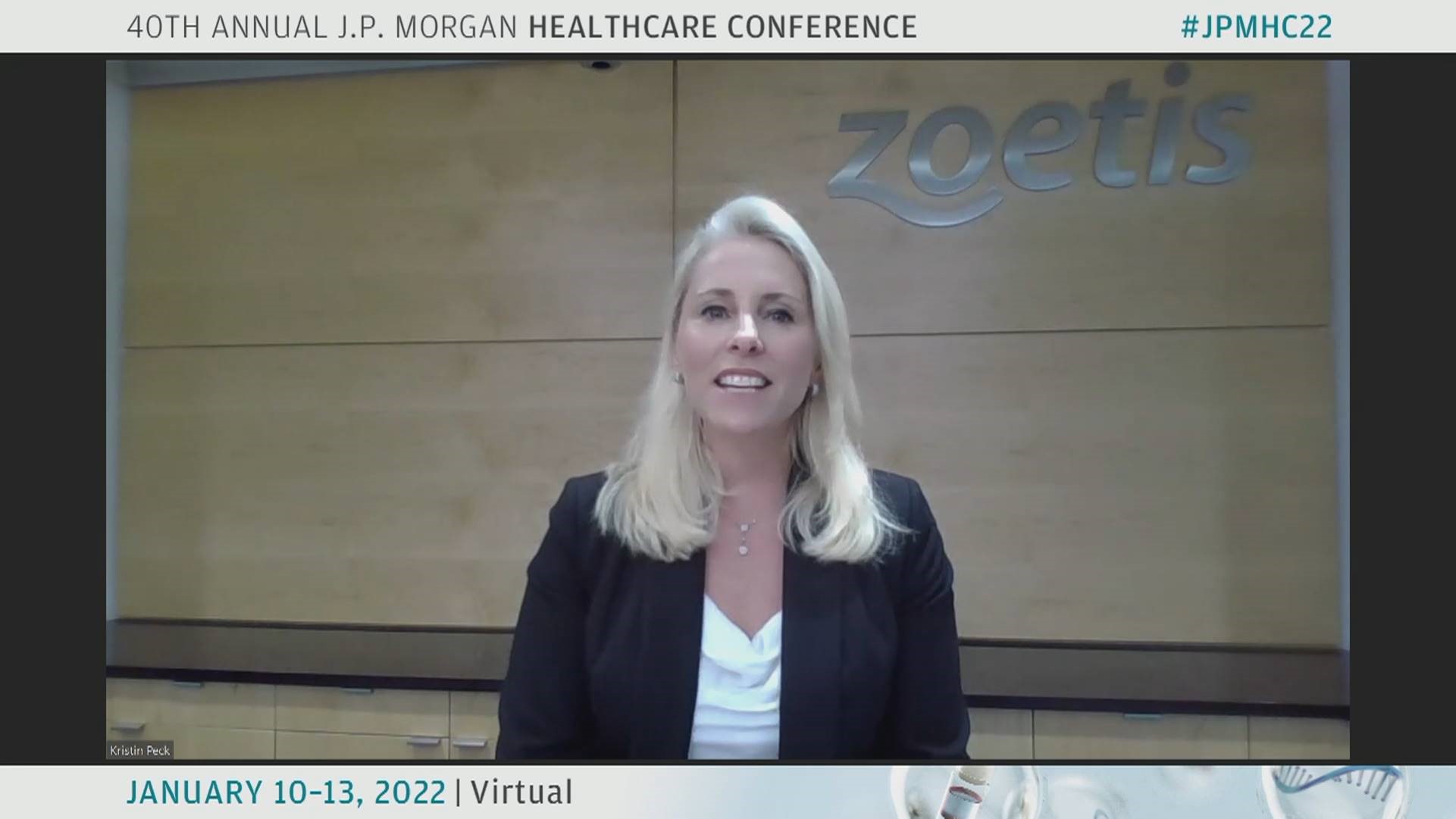 2021 J.P. Morgan Healthcare Conference
January 12, 2021
Zoetis CEO Kristin Peck speaks about resilience, leadership and growth in animal health
Zoetis CEO Kristin Peck presented at the J.P. Morgan Global Healthcare Conference on January 11, 2021, and was joined by Glenn David, EVP and Chief Financial Officer, for a Q&A session with financial analysts immediately following. This premier investor event for the healthcare sector, normally held every January in San Francisco, CA, was virtual for the first time ever this year.
Leading Animal Health Despite Global Challenges
In her presentation, Kristin discussed the trends shaping the future of animal health and Zoetis' strong track record of performance in this $40 billion market – despite challenges from the global pandemic. Her remarks highlighted how the company is well-positioned as the leader in animal health thanks to its diverse, innovative and durable portfolio, and ability to quickly adapt to shifting customer needs. "Our portfolio, commitment to innovation, and strategic focus enabled us to continue a track record of value creation and stability for our customers and investors," said Kristin.
Kristin also discussed what she sees as major catalysts for growth for Zoetis in 2021, including:
Strength in petcare based on parasiticides, dermatology and pain
Expansion in markets outside the U.S., most notably China; and
Acceleration of our diagnostics portfolio penetration with reference labs, increased connectivity and new products
"Zoetis' most recent performance over the last year amidst the pandemic has reaffirmed we are a strong market leader in an essential industry – with the portfolio, focus and financials to endure and excel, even in challenging times," she concluded.
View the Replay
You may access a replay of the event, including the Q&A session and presentation slides, on the Zoetis Investor Relations website under "Archived Events and Presentations."