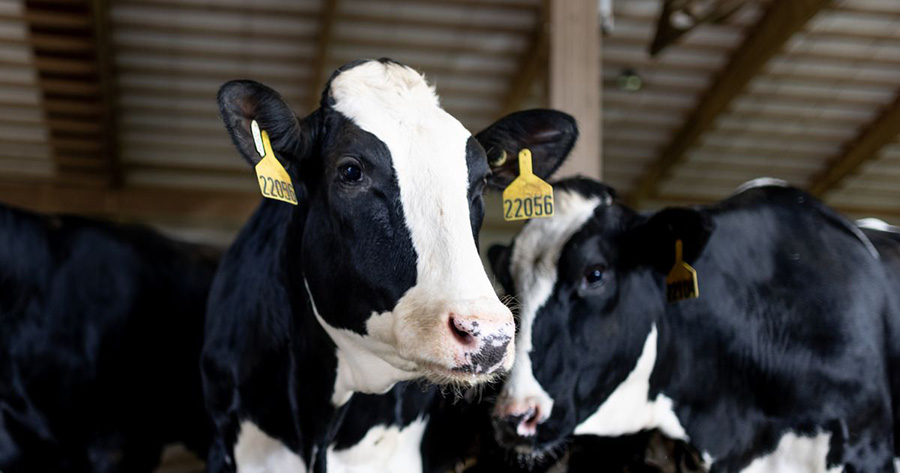 Zoetis Launches First On-Farm Mastitis Diagnostic
Flow dipstick test detects Gram-positive mastitis within eight hours for targeted treatment.
Zoetis has launched Vetscan® Mastigram+, a rapid on-farm mastitis diagnostic, in several markets across Europe. It uses a simple flow dipstick test to detect Gram-positive mastitis in just eight hours, enabling results before the next milking. Because often only Gram-positive cases will benefit from treatment with antimicrobials[1], a farmer or vet can use this information to deliver more targeted therapy and ensure antimicrobial usage is focused only on cows that need it.
"There's a lot of focus on the responsible use of antibiotics right now. If we can use the Mastigram+ test to differentiate whether we've got a Gram-positive causal agent or not, it will really help with the prudent use of antimicrobials," said Dr. Andrew Hancock, BVetBiol, BVSc, MVS MVSc, Principal Veterinary Officer for cattle at the Victorian Chief Veterinary Officer's Unit in Australia. "Antibiotic use for mastitis on dairy farms is one of the biggest sources, if not the biggest source, of antimicrobial use in a dairy. There's more and more pressure on farmers to reduce that usage, as well as justifying when antimicrobials are appropriate for the pathogens present."
Mastitis is inflammation of the mammary gland caused by trauma or infection, which can lead to decreased production and abnormal milk, a lot of which needs to be discarded. It's a key issue facing dairy herd health management and is estimated to cost the global dairy industry up to $32 billion annually[2]. Mastitis requires farmers and vets to consider treatment costs, decreased reproductive performance and, in some cases, the premature culling or death of a cow.
Dr. Jude Roberts BVM&S CertCHP PhD MRCVS, Veterinary Consultant, said: "It might mean more appropriate treatment rather than potentially reduced treatment overall, until we start to understand the pattern of mastitis in the individual herds. But, with appropriate treatment, it should mean the overall recurrence rate is lower and our probability of success is higher."
Being able to distinguish between Gram-positive and non-Gram-positive mastitis cases helps farmers and veterinarians to use more targeted treatment for dairy cows. Mastigram+ is designed to fit within existing dairy workflows, a 1mL milk sample from a suspected mastitis case at the time of milking is all that's needed for a diagnosis. Identifying where there's a need for antimicrobial use reduces the time that milk from cows is withheld, getting milk back in the bulk tank up to four days sooner* and saving money.
Published on August 21, 2023
---
References
* Depending on withhold time of treatment
[1] Lago A. and Godden SM. (2018) Use of Rapid Culture Systems to Guide Clinical Mastitis Treatment Decisions, in Vet Clin North Am Food Anim Pract.
[2] University of Glasgow (2016). Potential Biomarkers of Mastitis in Dairy Cattle Milk Identified.
3 Zoetis case studies – data on file: D3115 and D3116
DIA-00626