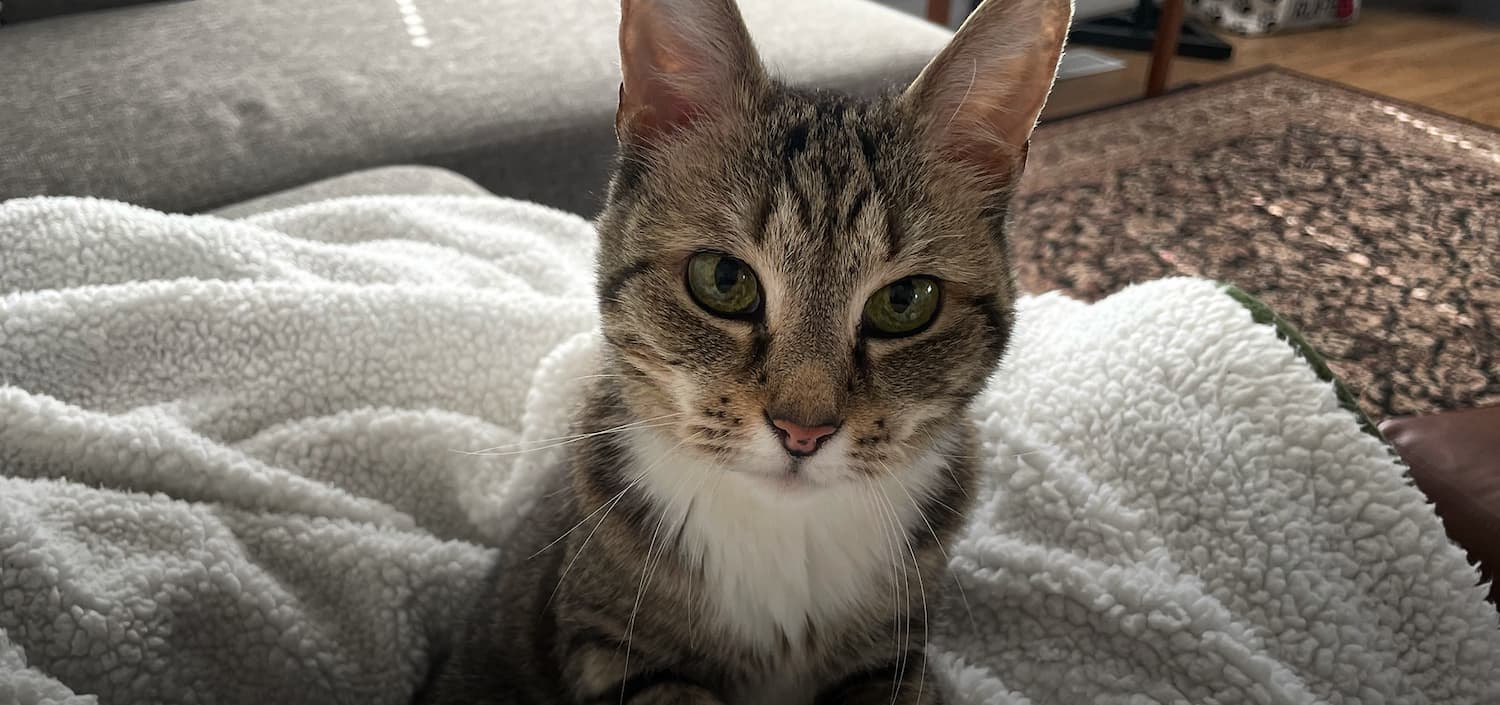 A Purr-fect Remedy for Pain
Game-changing medicine helps control osteoarthritis pain and improve quality of life for our feline family members
Cats are adored for their playful personalities, whether they're batting around a hair tie, hunting an elusive fly on the wall, or pouncing on a lap to demand a snuggle. But over time, you may notice your cat is sleeping more, climbing less and even flinching when you stroke her fur. You may be thinking, "It's just old age" – but is it?
Research shows 40% of all cats globally1 show signs of osteoarthritis (OA), an incurable, chronic, progressive painful disease.
"About 60% of cats over the age of 62 have at least one joint affected by OA, and 90% over the age of 123 have radiographic signs of joint disease," said Dr. Edwina Gildea, a veterinarian and Companion Animal Veterinary Lead for Zoetis in the U.K. "The prevalence of OA is very common in cats, but the diagnosis is low."
The mysterious and lovable truth about cats
Recognizing pain in cats can be challenging. Some cat owners recognize changes in their cat's behavior but may think they are a natural part of aging or may wait until the cat is showing very severe signs of pain (because cats will hide signs of OA pain when they can). Some cats in pain may start sleeping more than usual or hide under the bed more often – behaviors that could be mistakenly attributed to aging.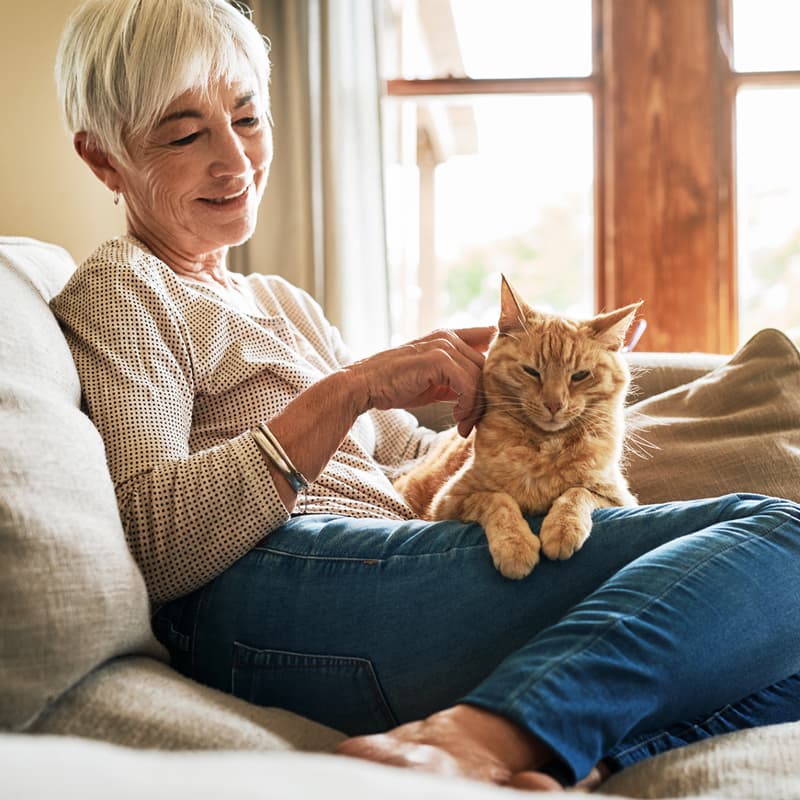 Some pet owners may think a cat needs to limp to show pain. But, as many cats have OA in both legs, they don't tend to limp like dogs with OA, who often have it worse in one leg than the other.
Cats are not "small dogs." They are very different genetically, metabolically and behaviorally. Cats tend to be closer to their wild cousins and exhibit many of the same behaviors in their play activity. Just like a lion or tiger, domestic cats are very effective at hiding the signs of pain, which would otherwise be a sign of weakness in the wild.
When cats experience pain, their facial expressions change. Their ears drop, their eyes squint, their faces pucker, and their whiskers point down.4 "This discomfort is easier to recognize in cats experiencing acute pain, but chronic pain from OA is quieter, more insidious, and causes more wear and tear as the cat ages," said Dr. Mike McFarland, Chief Medical Officer at Zoetis. "It's important to diagnose and treat OA as soon as possible."
In search of a better approach to pain management
Traditionally, steroids and off-label use of non-steroidal anti-inflammatory drugs (NSAIDs) in the U.S. have been used to treat cats with pain. Both options have limitations when used in cats. Some cats can't tolerate them and for others, getting the medication into the cat can be tough for pet owners.
"Poking a pill down a cat's throat two or three times a day is tough on the pet and the human," said Mike. "We recognized the huge need for a better way to deliver relief and help restore a cat's quality of life – and to do that without harming the human-animal bond."
The search for a "better way" began circa 2010 when Zoetis scientists set out to discover new therapies to treat pain in cats and dogs. "Our goal was to develop effective and safe therapies, without harming the animal's liver, kidneys or causing gastrointestinal problems," said Sunil Narisetty, the leader of Bioprocess and Product Sciences at Zoetis. "And for cats, it had to be easy to deliver – not a pill, but a long-lasting injectable with no or minimal injection site reactions."
Scientists turned their attention to nerve growth factor (NGF), a protein known to play a significant role in the delivery of pain signals to the brain. Through rigorous testing, scientists confirmed that joint damage in cats acted like a switch, essentially triggering the overproduction of NGF. They were determined to figure out how to decrease the protein's activity, suppress the pain signals to the brain and help improve the quality of life for cats.
In 2017, Zoetis acquired Nexvet, a biologics therapeutics company developing monoclonal antibody therapies for companion animals, and further developed one of its candidates. The journey resulted in a first-of-a-kind therapy to control OA pain in cats.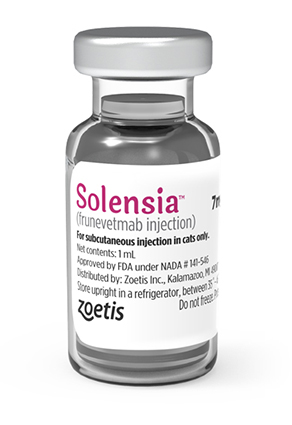 A new treatment to help cats get back to where they belong
Introduced in Europe, the U.S. and other countries around the world, Solensia™ (frunevetmab injection) is the first and only once-monthly monoclonal antibody (mAb) for the control of OA pain in cats. Once administered, this cat-specific monthly injection binds to NGF, reducing the overabundance and, as a result, prevents the transmission of pain signals to the brain.
In clinical studies conducted with hundreds of cats, 77% of cat owners reported improvements in their cat's mobility, comfort and well-being when treated monthly with Solensia.* The studies also showed that Solensia is well-tolerated.5 "And because it functions like a naturally occurring antibody, it is eliminated like other proteins with minimal involvement from the liver and kidneys – a critical factor, considering the prevalence of kidney disease in older cats," said Sunil, who has led the global project team that developed and registered Solensia.
Following commercial availability, both veterinarians and pet owners who have used Solensia reported high satisfaction when surveyed.
What pet owners can do to help their cats
According to Kate Walker, who led commercial development plans for Solensia, market research shows that when cat owners learn about OA, they are "highly motivated" to help their cat get back to the climbing, exploring and playfulness they enjoy. "Pet owners are in a great position, because cats act more natural at home than at the clinic, where they get stressed in the exam room. Pet owners can take videos of their cat's behavior and share them with the veterinarian."
There's also a Feline OA Checklist pet owners can use to help identify the signs of OA pain. "It's a great idea to talk to your veterinarian early on, because a veterinarian can do a workup on your cat, provide a diagnosis, and help provide you with options for improving your feline family member's quality of life," said Kate.
Zoetis' commitment to future innovation
Zoetis continues to invest substantially in researching, developing, manufacturing and commercializing mAbs and other novel therapies to meet the world's health care needs for pets and farm animals.
"Our early success with mAb therapy sets up an amazing opportunity to leverage this technology to treat a variety of pet problems in ways that are effective, safe and convenient so that animals can live healthier lives," said Mike. "And healthy animals support better health and quality of life for the people who care for them."
Published on April 18, 2023
---
Is Your Cat Suffering from Osteoarthritis Pain?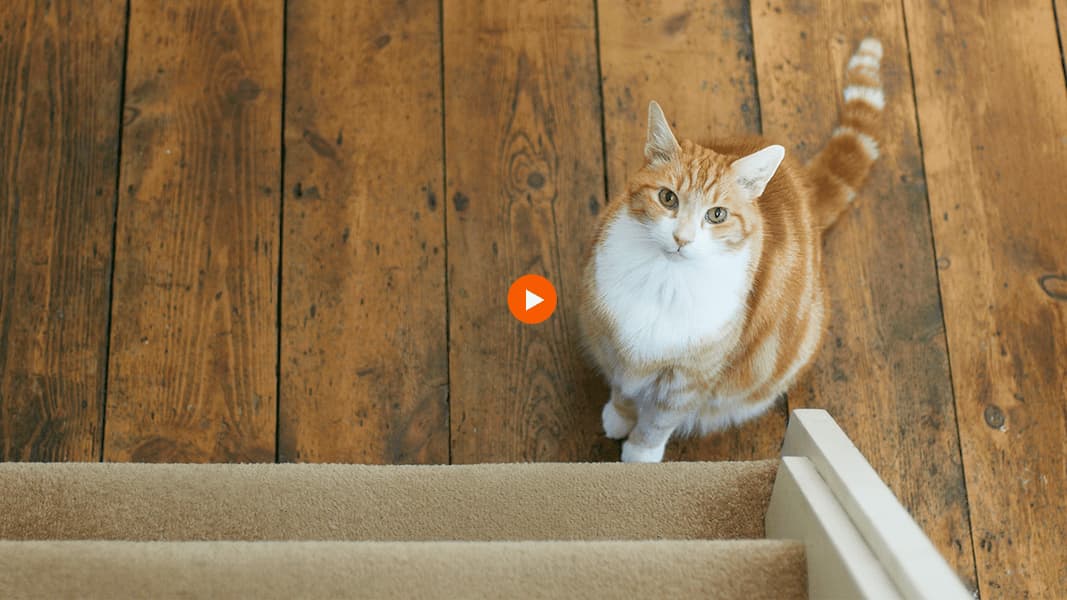 Nearly 40% of cats have signs of osteoarthritis (OA) pain, and they suffer in silence for years. Learn more about the signs of OA pain -- and what you can do to help your cat.
---
IMPORTANT SAFETY INFORMATION: For use in cats only. Women who are pregnant, trying to conceive or breastfeeding should take extreme care to avoid self-injection. Allergic reactions, including anaphylaxis, could potentially occur with self-injection. SOLENSIA should not be used in breeding cats or in pregnant or lactating queens. SOLENSIA should not be administered to cats with a known allergy to frunevetmab. The most common adverse events reported in a clinical study were vomiting and injection site pain. See full Prescribing Information.
* 67% of cat owners experienced improvement in signs of their cat's pain in the placebo group.
1 Zoetis Market Research: KG MarketSense 2018.
2 Slingerland L, Hazewinkel H, Meif B, Picavet P, Voorhout G. Cross-sectional study of the prevalence and clinical features of osteoarthritis in 100 cats. Vet J. 2011;187:304-309.
3 Hardie EM, Roe SC, Martin FR. Radiographic evidence of degenerative joint disease in geriatric cats: 100 cases (1994-1997). J Am Vet Med Assoc. 2002;220:628-632.
4 Pain assessment in cats | Feline Grimace Scale
5 Solensia Prescribing Information.
SLN-00388
Copyright © Zoetis Services LLC 2013-2023 All rights reserved. The product information provided in this site is intended only for residents of the United States. The products discussed herein may have different product labeling in different countries.