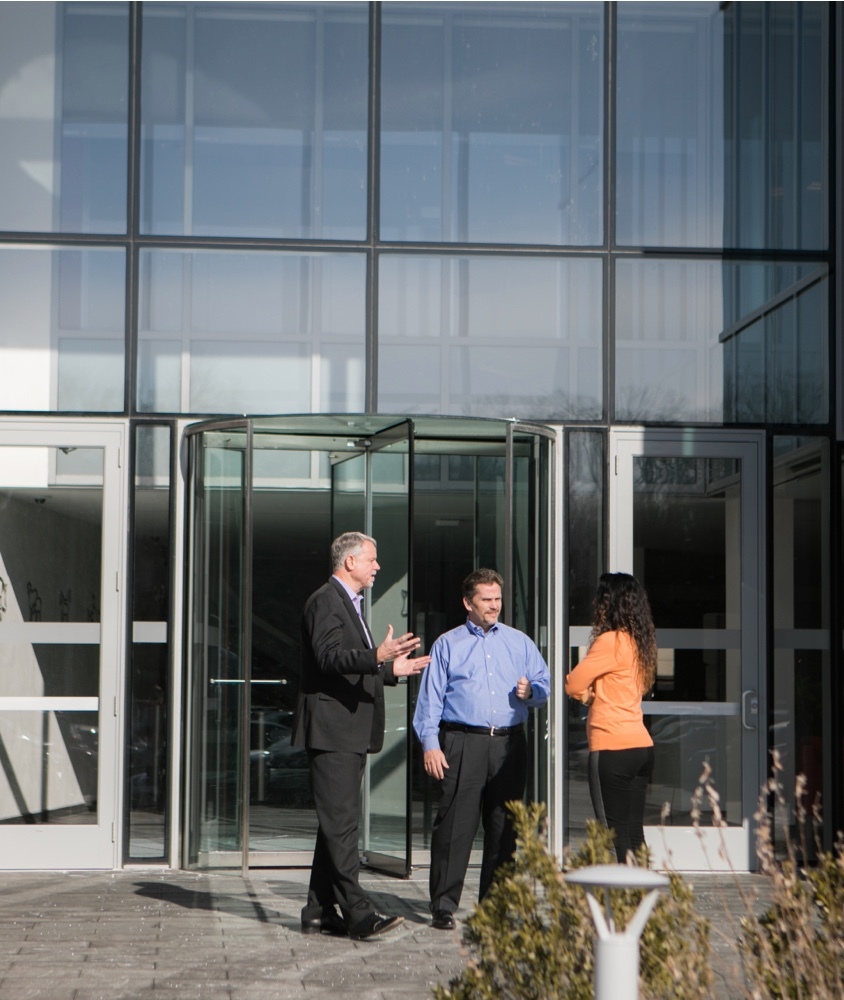 Corporate Compliance Program
Zoetis' comprehensive corporate compliance program is designed to ensure that our colleagues, contractors and third party representatives not only meet legal requirements in the markets in which we operate, but also act responsibly and with integrity in everything they do for Zoetis. A combination of written guidelines, formal processes and management oversight helps us ensure that Zoetis complies with laws and acts according to the high standard of ethical business conduct expected under our Code of Conduct. Our Compliance Program is structured around eight key elements that work together to ensure Zoetis has a meaniningful and effective compliance program.
1. Compliance Leadership and Governance
Jeff Williams serves as Zoetis' Chief Compliance Officer (CCO). Mr. Williams is responsible for overseeing the Corporate Compliance Program and reporting and updating the status of the program to senior leadership, including the Audit Committee and the Board of Directors.
The CCO also manages the Executive Compliance and Risk Council (ECRC), which oversees and supports the Company's efforts to ensure that its business is conducted appropriately. The ECRC is led by our CEO Kristin Peck and includes the Zoetis Executive Team and other senior leaders with significant compliance and/or risk focused roles. This governance structure supports strong compliance leadership in action and continuous improvement of our program.
Mr. Williams can be reached at jeff.williams@zoetis.com.
In addition to senior leadership, we have a team of dedicated compliance professionals with specialties in compliance operations, anti-corruption, data privacy, trade compliance, investigations, and monitoring and testing. We have also established the Zoetis Compliance Champions Network (ZCCN) of 70+ colleagues with representation across functions and seniority levels globally. The ZCCN is a megaphone for the compliance program that promotes a company-wide culture of integrity and supports our compliance initiatives.
2. Risk Assessment and Evaluation
Zoetis maintains a comprehensive and dynamic Enterprise Risk Management (ERM) program, which is designed to identify existing and emerging enterprise-wide risks, ensure that these risks are mitigated appropriately, and adjust mitigation plans as risks may evolve or change. The ERM Taskforce is comprised of senior leaders with diverse expertise across Zoetis globally and is led by our CCO.
3. Policies and Procedures
Conduct, as well as our corporate policies and procedures, enable our colleagues, contractors and third-party representatives not only to meet legal requirements in the markets in which we operate, but also to act responsibly and with integrity in everything they do for Zoetis.
View the Zoetis Code of Conduct.
4. Training
The Zoetis Compliance Program offers a wide array of live, virtual and customized on-line compliance training modules such as the Code of Conduct, Anti-Bribery and Anti-Corruption, Data Privacy and Anti-Harassment and Anti-Discrimination, as well as a variety of other trainings relevant to the roles and responsibilities of our colleagues, contractors and third-party representatives.
5. Investigations and Helpline
Zoetis is committed to providing an environment in which our employees, officers, directors, shareholders, customers, suppliers, contractors, and others with whom we interact are comfortable in raising concerns or reporting any suspected or potential violations of law, regulation, and/or Zoetis policy and procedure (including our Code of Conduct). Zoetis provides several avenues for reporting concerns, including options that allow anonymity such as the confidential compliance helpline.
Zoetis maintains a "Safe to Say" program that encourages our colleagues to offer up ideas and solutions and allows colleagues to raise concerns without fear of retaliation. There is zero tolerance for any form of retribution against colleagues or others who raise honest and good faith concerns. Allegations of retaliation will be fully investigated and, if substantiated, appropriate action will be taken.
Reporting a Concern
At Zoetis, colleagues can report a concern to any of the following: (1) their immediate supervisor or another manager; (2) Human Resources, Legal, Internal Audit, or Finance; (3) the Compliance Helpline (see further information below); (4) the Compliance email box (Compliance@zoetis.com); (5) the regular mail at 10 Sylvan Way, Parsippany, New Jersey 07054, Attention: Chief Compliance Officer; (6) directly to the Chief Compliance Officer (jeff.williams@zoetis.com); or (7) any senior leader or Zoetis Board member.
Compliance Helpline
Where available and permitted by law, anyone may report a concern or obtain information anonymously via the Zoetis Compliance Helpline. The Compliance Helpline can be reached by phone or online via the web-reporting tool is available 24 hours a day, 7 days a week, 365 days a year; and is offered in 70 languages. The Compliance Helpline is operated by specially trained third–party representatives.
Compliance Helpline Number* (U.S. and Canada): 1.855.322.9944
* For Compliance Helpline numbers outside the U.S. and Canada, click here.
Compliance Helpline Web–Reporting Tool: http://zoetis.ethicspoint.com
6. Disciplinary and Other Corrective Actions
Colleagues who are found to have a committed a violation of Zoetis policy, a law or regulation, are subject to disciplinary action, up to and including termination. Contractors and third-party representatives who engage in violations are subject to termination of their business relationship with Zoetis.
7. Anti-Bribery and Anti-Corruption
Zoetis has a comprehensive Anti-Bribery and Anti-Corruption (ABAC) program covering compliance with the Foreign Corrupt Practices Act (FCPA), UK Bribery Act, and all the international anti-corruption laws where we conduct business directly or indirectly through our third-party representatives. Our ABAC program includes extensive resources supporting compliance with applicable anti-corruption laws as well as our corporate policies and procedures. This includes standards for charitable donations, sponsorships, interactions with government officials and prescribing animal health professionals, business gifts, travel and entertainment expenses, relationships with third parties, and mergers and acquisitions.
8. Internal Monitoring and Testing
The Company's Internal Audit team maintains responsibility for auditing the policies and procedures of the Compliance Program. Gregg Palesky serves as Zoetis' Chief Audit Executive and is responsible for overseeing the compliance audit program in addition to the audit program generally. He can be reached at Gregg.Palesky@Zoetis.com.
Routine monitoring and testing of transactions is an important function of the compliance program to determine whether Zoetis internal controls are operating effectively and to evaluate the effectiveness of, and continuously improve, the Compliance Program generally. This includes testing to assess adherence to Zoetis policies and procedures as well as compliance with legal and regulatory requirements.
Data Privacy
Data Privacy is also integral to our compliance program. It is critical that we manage data consistent with our core beliefs and our colleague/customer/stakeholder expectations. The Privacy Office works with all businesses and functions to help ensure that the data Zoetis collects is protected and that our processes are compliant with relevant legal and regulatory requirements wherever we do business. The Privacy Office also works closely with the Zoetis Chief Information Security Officer to protect and secure our data against improper or malicious use. For additional information, please contact the Privacy Office at Privacy@zoetis.com or visit the Data Privacy Community Page on the Zone.
If you have any questions or concerns about the Zoetis Corporate Compliance Program, please reach out to the Compliance Team at Compliance@zoetis.com, or directly to Jeff Williams, our Chief Compliance Officer at Jeff.Williams@zoetis.com.