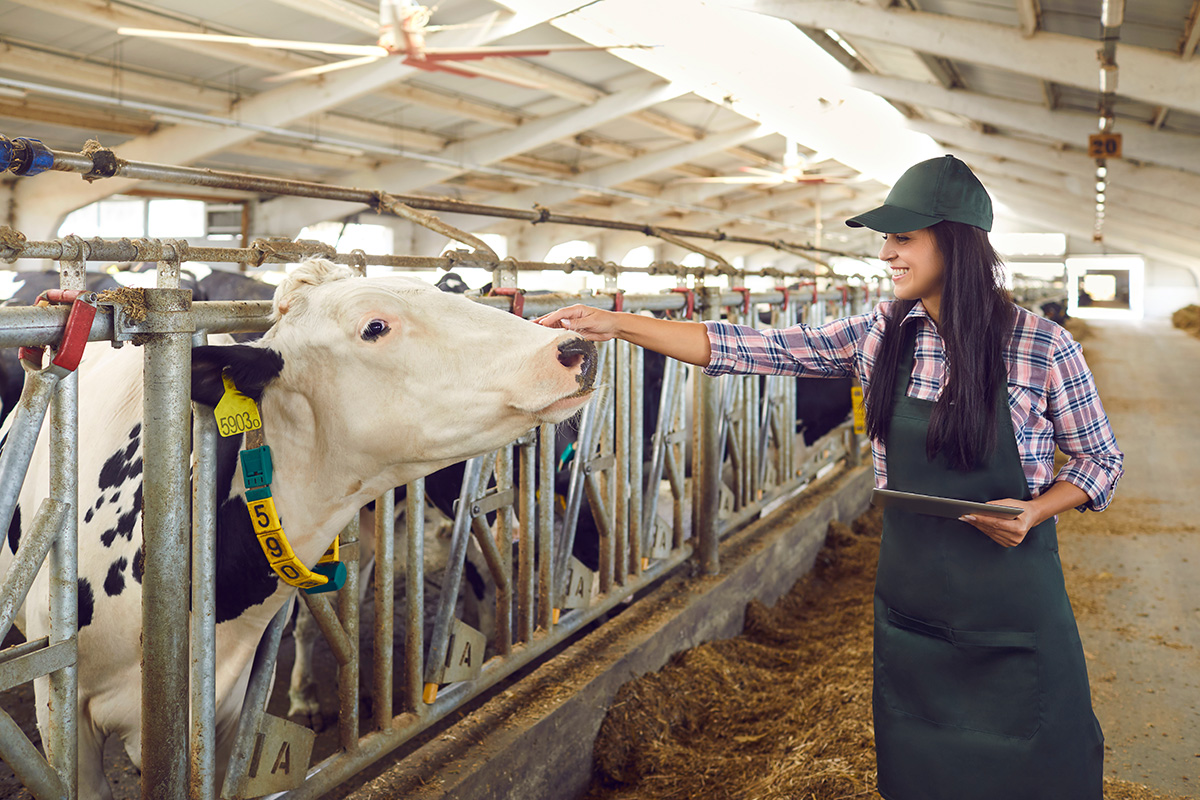 Animals: Innovation in Animal Health
Innovating for Sustainable Solutions
ASPIRATION
Provide products and services that enable productive and sustainable livestock farms that preserve animal welfare

TARGET
Innovate to create and drive adoption of key sustainable animal health solutions
2021 PROGRESS
Incorporated key environmental, social and farmer economical considerations into our new product evaluation process which includes key evaluation milestones as part of our R&D pipeline.
Joined external organizations Global Roundtable for Sustainable Beef and The Sustainability Consortium to support collaboration across the livestock value chain and drive sustainable livestock production.
TARGET
Equip our customers with innovative products to support their ambitious environmental, social and animal welfare goals
2021 PROGRESS
Introduced products and services to support our customers in meeting their sustainability and animal care goals, including Performance Ranch, a cow-calf management software and BLOCKYARD™, a blockchain solution; gained U.S. approval for M.bovis vaccine to help prevent bovine respiratory disease; expanded claims for IMPROVAC® to improve sustainable pork production; and, invested in more research to support dairy producers' use of CLARIFIDE® genomic testing.
Our scientists are focused on medicines, vaccines, diagnostics and technologies to help livestock farmers raise healthier, more productive animals which ultimately contribute to safe, sustainable food supply and farmers' own livelihoods – especially in developing countries. Driven by the need to solve sustainability challenges facing animals and people, our expertise in animal health innovation directly supports the advancement of the United Nations Sustainable Development Goals (UN SDGs), including SDG 1: No Poverty, SDG 2: Zero Hunger, SDG 3: Good Health and Well-Being, SDG 5: Gender Equality, SDG 13: Climate Action and SDG 15: Life on Land.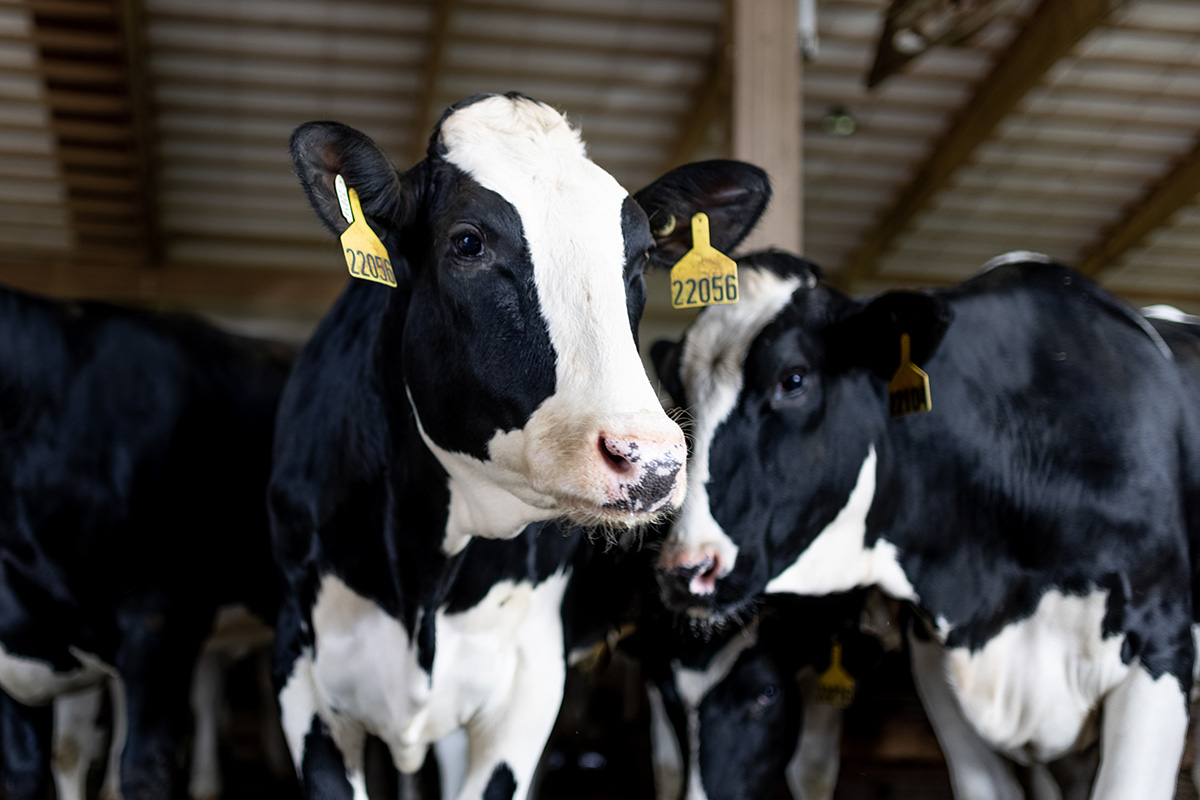 We believe that the role of animals must be considered to achieve the UN SDGs, in particular the importance of disease prevention in improving livestock production and ensuring the availability of nutrient-rich foods that many rely on. This is why we signed the UN Business Declaration on Food Systems Transformation as part of the UN Food Systems Summit held in 2021.
Read more about our commitment to ensuring healthy animals' contribution to a sustainable food system.
Our innovation focuses on the important role healthy animals play in creating a healthier future. Healthier animals have a smaller environmental footprint and are critical for sustainable livestock production. Our products and services support our livestock customers in their essential work to sustainably produce protein and our companion animal customers as they address unmet medical needs and deepen our bonds with pets.
Driven by our purpose, we discover and develop solutions across the continuum of care to predict, prevent, detect and treat health conditions in animals, with the aim of helping our customers achieve their sustainability and animal care goals. Our areas of focus include developing additional vaccines; exploring new classes of antibiotics for veterinary use only and novel, nonantibiotic anti-infective solutions; and enhancing diagnostics, genetic tests and digital technologies. For example, our vaccines for poultry and salmonids have contributed to a reduction in the use of antibiotics over the years. One of our genomic prediction tools helps dairy farmers increase financial sustainability and improve animal welfare by offering wellness solutions that significantly reduce disease conditions, morbidity and mortality in dairy cattle.
Sustainable Partnerships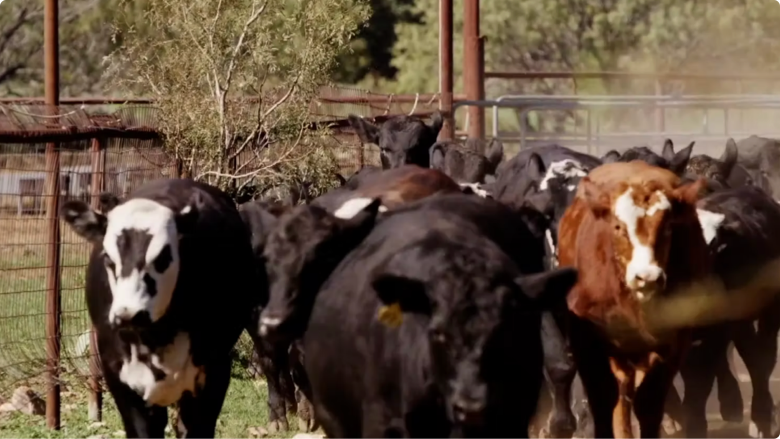 We engage with organizations, such as the Global Roundtable for Sustainable Beef (GRSB) and the Dairy Sustainability Framework, to support collaboration among farmers, ranchers, meat and dairy processors, and food brands. Our Executive Vice President, Corporate Affairs, Communications and Sustainability sits on the GRSB executive committee, allowing Zoetis to play an important role in helping advance sustainable livestock production. In 2021, we joined The Sustainability Consortium with a focus on supporting efforts to increase supply chain transparency and sustainability with U.S. pork producers. Our U.S. team has been involved with the U.S. Roundtable for Sustainable Beef in developing goals and sector targets.
Providing Solutions for Agricultural Emissions
Improving animal health offers the greatest opportunity to reduce greenhouse gas emissions from livestock. Every cow, pig, sheep, chicken or fish lost to disease represents emissions spent that are not converted into food. We see an opportunity to reduce methane emissions per unit of animal protein produced and for our precision animal health solutions to provide information and decision-making tools to help livestock farmers optimize input and reduce methane and other waste emissions. Our R&D efforts in cattle focus on creating integrated management solutions for the complex challenges around these emissions. We approach this challenge from several angles, including exploring products to optimize feed efficiency and health, along with genetic tools that can help select for low methane cattle and potentially novel feed additives to reduce methane emissions
Data Helps Farmers Make Earlier, More Informed Decisions
Zoetis is building out the intersection of genetics, health management, and data to help livestock farmers maximize health and well-being, performance and sustainability across livestock farming operations. With consumers' growing interest in how food-producing animals are raised, we are confident that on-farm data will make a meaningful impact when shared throughout the supply chain.
Performance Ranch™, a new cow-calf management software, helps cow-calf producers easily capture health and performance data, manage costs and track herd inventory in real time. This software solution joins the Performance Beef platform, expanding the Performance Livestock Analytics offerings for cattle producers. The easy-to-use software provides users insights to make informed decisions across financials, nutrition, genetics and animal health. Users are able to access real-time data and see variations in performance to make more informed decisions earlier regarding the health and marketability of their animals.
BLOCKYARD™ helps collect, transfer and connect information on individual cattle from multiple sources across the complex beef cattle production chain. The new blockchain solution, developed in collaboration with IBM Consulting leveraging IBM Blockchain Platform on the IBM Cloud, works with existing health and data management solutions, such as Performance Ranch™, INHERIT™ and SELECTVAC®. BLOCKYARD makes the production, health and genomic information available to all stakeholders on a permissioned basis.
CLARIFIDE® Genomic Testing
Genomic testing can significantly reduce the costs of animal health by reducing disease incidence and antibiotic use. A 2020 study published in the Journal of Dairy Science demonstrated the ability of CLARIFIDE predictions to accurately predict health, production and profitability outcomes in individual dairy animals, enabling better farm management.
In 2019, 1,053 dairy cows across four U.K. farms were genomically tested using CLARIFIDE Plus. The genomic predictions accurately identified animals that produced more milk, had fewer cases of mastitis and lameness and required fewer antibiotic treatments.
These results from the U.K. study were supported by a more in-depth study in the U.S., conducted in 2021, which looked at the impact of Dairy Wellness Profit Index (DWP$). Cows with higher DWP$ were healthier (22% less lame cows, needed 44% less antibiotics), more productive (35% more milk and 11% less feed) and ultimately required 27% less labor for health needs.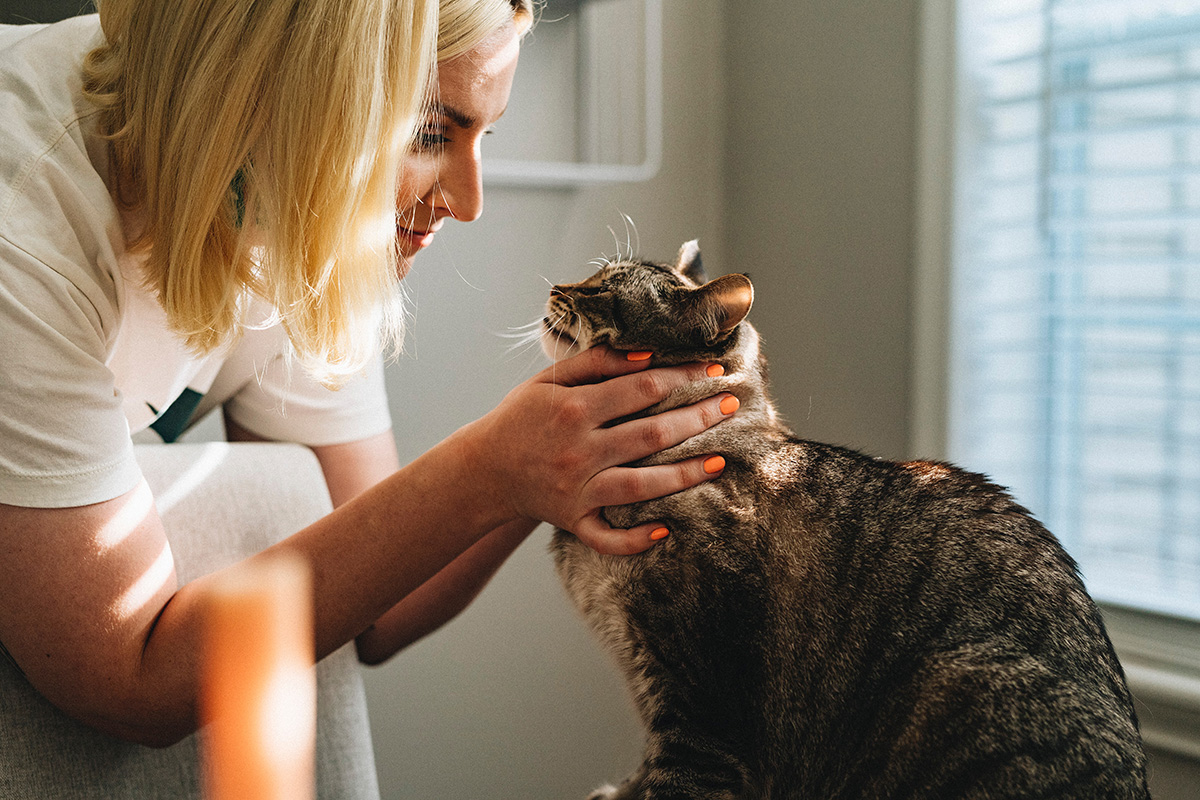 Helping Pets Live Longer, Happier Lives
Our products and services are designed to help pets live longer, healthier, happier lives. We understand the importance of the human-animal bond, and we use science and understanding of our customers' needs to find solutions that improve the health, well-being and quality of life for pets. One example is the recent launch of LIBRELA® and SOLENSIA® – the first injectable monoclonal antibodies for alleviating osteoarthritis pain in dogs and cats in Europe and certain other countries. Without treatment, osteoarthritis pain can worsen over time and seriously affect a cat's or dog's long-term health and well-being, disrupting the unique bond pets share with their humans.
Animal Care and Welfare
Zoetis is dedicated to helping animals live longer, healthier lives through the discovery and development of breakthrough medicines and therapies. Our Policy on Animal Care and Welfare, which outlines our commitment to the principles of the 3Rs of animal research – replacement, reduction and refinement – reflects our commitment to ensure that animals used in our research are treated humanely.
We believe that animal-based biomedical research in the pharmaceutical industry remains critical in the discovery, evaluation and regulatory processes that lead to the development of products designed to save or improve animal lives throughout the world. However, we remain fully committed to the development and use of scientifically validated alternative testing methods deemed acceptable to regulatory authorities and that do not compromise patient safety or the effectiveness of our medicines.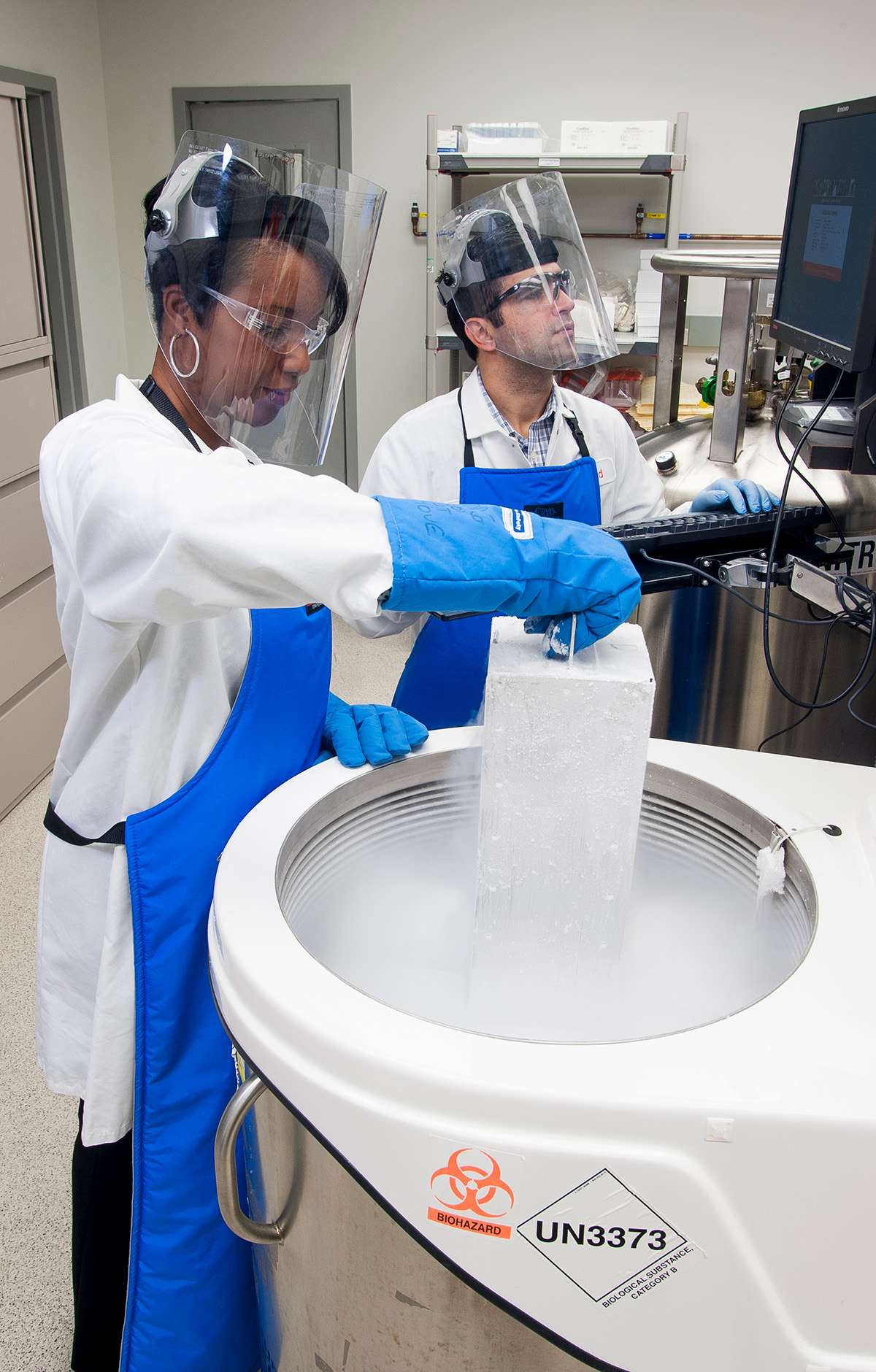 Working Collaboratively to Advance Alternatives to Animal Testing
Zoetis is committed to cross-industry collaboration to develop and refine new in-vitro testing and predictive informatics-based systems that hold promise for reducing animal usage. By working with associations, governmental agencies and peers, our colleagues have helped advance alternatives to animal testing.
In Brazil, the Ministry of Agriculture, Livestock and Food Supply (MAPA) has introduced a new regulation that will reduce Target and Laboratory Animal Batch Safety animal testing requirements for products sold in the country. The new regulation is a result of a partnership between the local regulatory authorities and SINDAN, the animal health industry association in Brazil. Zoetis was involved through leadership of SINDAN's working group for biologics which drove the collaboration.
In addition, Zoetis colleagues in Europe played a key role in the VAC2VAC initiative dedicated to developing quality control testing approaches for human and veterinary vaccines using non-animal methods. The six-year project concluded in February 2022 and has resulted in the validation of two in-vitro assays that are approved as replacements for animal tests. Additional in-vitro assays are still being explored. Moreover, the VAC2VAC project produced 21 peer-reviewed open access publications

Up Next: Animals
Combatting Diseases