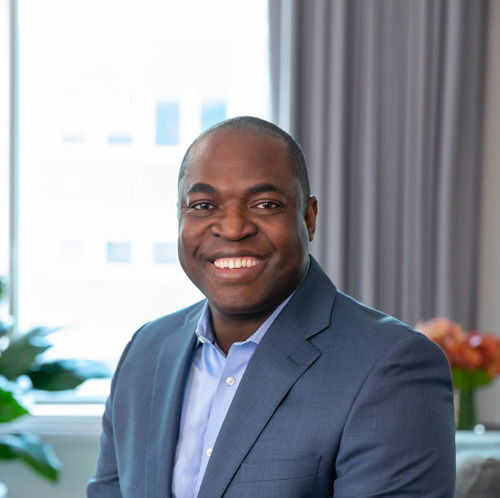 Executive Team
Wetteny Joseph
Executive Vice President and Chief Financial Officer
Wetteny Joseph is Executive Vice President and Chief Financial Officer of Zoetis, the world's leading animal health company and a member of the Fortune 500. In this role, he is responsible for overseeing the financial management, planning, operations and indirect procurement functions. During his career, he has worked across diverse and complex businesses; led finance functions, business units and business development; and managed relationships with stakeholders from customers and suppliers to investors.
Mr. Joseph joined Zoetis in June 2021, after having spent 13 years in executive positions at Catalent, a global leader in pharmaceuticals, biologics and consumer health products. Before joining Zoetis, he was senior vice president and chief financial officer of Catalent for three years, overseeing accelerated financial growth and value creation at the company through transformational acquisitions and organic capital deployment.
He first joined Catalent in 2008 as corporate controller and held several senior finance positions until October 2015, when he was named president of the Clinical Supply Services business, responsible for $400 million in annual sales from the global business unit.
Before joining Catalent, Mr. Joseph held a variety of senior financial positions at the industrial distribution company HD Supply, including as chief financial officer of its $1.2 billion plumbing and HVAC business unit. He also served as corporate controller for Hughes Supply, a Fortune 500, NYSE-listed company that was acquired by Home Depot and became part of HD Supply. In his early career, Mr. Joseph spent six years at PricewaterhouseCoopers as an auditor and strategic financial advisor across a variety of industries.
Mr. Joseph holds both master's and bachelor's degrees in Accounting from Florida Atlantic University and is a Certified Public Accountant. Mr. Joseph is a member of the Executive Leadership Council (ELC); a non-executive board member of Ashland Global (ASH); and a member of the Federal Reserve Bank of New York's Second District Advisory Council.