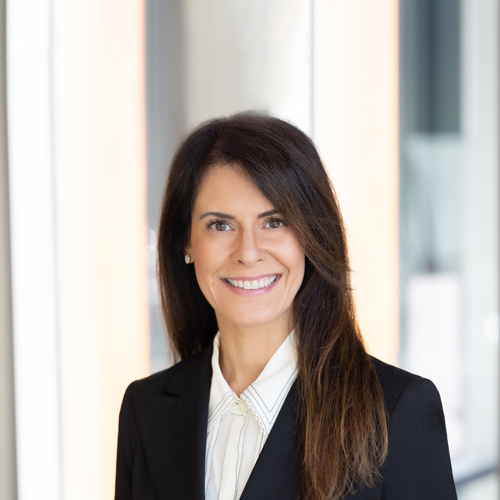 Executive Team
Jeannette Ferran Astorga
Executive Vice President, Corporate Affairs, Communications and Chief Sustainability Officer
Jeannette Ferran Astorga is Executive Vice President, Corporate Affairs, Communications and Chief Sustainability Officer for Zoetis, the world's leading animal health company and a member of the Fortune 500. She also serves as President of the Zoetis Foundation.
In these roles, Ms. Ferran Astorga is responsible for advancing global visibility, reputation and purpose-driven strategies for Zoetis, seamlessly integrating public policy, sustainability, corporate reputation and communications. Ms. Ferran Astorga joined Zoetis in 2020 as the company's first head of Sustainability, launched the company's long-range goals in the areas of environmental and social impact, and established the Zoetis Foundation focused on advancing opportunities for veterinarians and farmers.
Prior to joining Zoetis, Ms. Ferran Astorga was Vice President of Corporate Responsibility at the ascena Retail Group, where she led the global team responsible for supply chain compliance and sustainability, diversity and inclusion, and corporate philanthropy. Over her 20+ year career in fashion retail, she has been recognized for orchestrating purpose-driven strategic initiatives, instilling cultures of innovation, and stimulating growth within prestigious companies including several in the Fortune 500. Throughout her tenure, she held a variety of management roles with increasing responsibilities in information systems, merchandise planning and various business support functions.
In addition to her corporate role, Ms. Ferran Astorga is engaged in several board leadership, advisory, and committee roles with notable organizations. Her professional achievements have garnered recognition, including being listed as a Top 100 Corporate Social Responsibility Influence Leader by Assent in 2020. Ms. Ferran Astorga serves as chairperson of the Zoetis Political Action Committee and executive committee member of the Global Roundtable for Sustainable Beef. She also serves as Board Director for non-profit Generation Hope and is a frequent presenter on sustainability topics and contributor to the Hispanic Executive Publisher's Circle.
Ms. Ferran Astorga holds a bachelor of science degree in Marketing and Finance with a concentration in International Business from Fordham University, and she completed the Corporate Social Responsibility executive program at Harvard Business School.