An Unprecedented Virtual Installation
March 12, 2021
Leveraging virtual technology to keep customers connected during COVID-19
One of the major themes that has emerged throughout the pandemic has been the importance of embracing change. Whether it's adopting new ways of working, embracing new technology to connect with and support our customers, our colleagues have shown their agility and resilience in myriad ways. Our Global BioDevice & Automation (GBDA) team is no exception: when a customer in Argentina wanted to install a new Zoetis Inovoject NXT vaccination device for its hatchery despite travel restrictions and other limitations, our colleagues found a way to deliver. Read on to learn more.
In 2020, as COVID-19 closed much of the world to travel, a Zoetis customer in Argentina found its operations at a temporary standstill. The hatchery recently signed a contract for a new Zoetis Inovoject NXT poultry vaccination device that had not been installed yet. The Inovoject NXT, which was procured to increase productivity for the business, was sitting idle because the local COVID regulations had forbidden any incoming travel, preventing Zoetis technical colleagues from managing the installation.
"The installation of this device was a challenge we've never seen before. In our quest to address a critical need for a long-standing customer, we not only installed the first Inovoject NXT biodevice in Argentina, we installed it using new technology," said Juan Sangineto, Zoetis Technical Service Representative. "Finding innovative ways to serve our customers like this underlines our commitment to customer relationships and helps strengthen our business."
An Agile Approach to Deliver Results
The customer was keen to get the device installed despite the challenge presented of not having any Zoetis experts on site. In the spirit of Customer Obsession, our colleagues searched for a way to enable members of our GBDA team to connect virtually to guide hatchery employees through the installation process. The team identified innovative mixed virtual reality lenses that works with a set of collaborative apps as a solution that could connect the team to the customer and provide a first-hand, real-time view of the equipment status and hatchery personnel actions. The innovative technology allowed the Zoetis GBDA training team to guide the hatchery team step-by-step and identify issues quickly. Implementing this unprecedented technology for the installation required collaboration across the business. Time was of the essence for our customer, so Zoetis moved swiftly. Working as One Zoetis, GBDA assembled a cross-functional team, including Zoetis Tech & Digital (ZTD) colleagues, who supported the team in securing the equipment and identifying the right software for the task that was security compliant.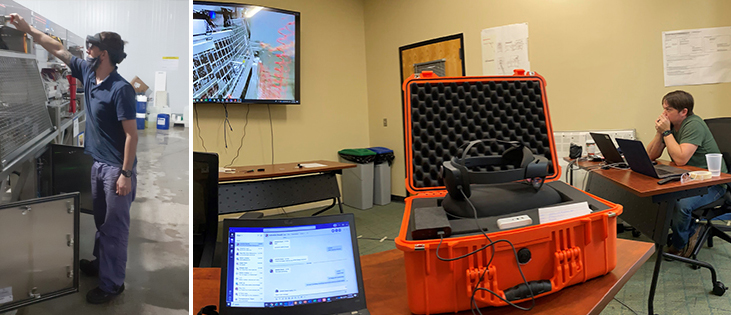 Zoetis colleagues quickly devised a process that included three critical stages: pre-work and uncrating the BioDevice, installation, and validation. Each stage had its own comprehensive set of checklists and instructions to ensure that from the first day the Zoetis team virtually connected with the hatchery, they were ready to hit the ground running. As the Zoetis training team completed appropriate reviews of all deliverables in each of the three phases, ZTD colleagues secured the augmented reality equipment, programmed it, created detailed user instructions, and sent it to our hatchery customer in Argentina. When the equipment reached Juan, our colleague on the ground in Argentina, our teams in Durham, North Carolina connected with him to run beta tests. This allowed the team to iron out any glitches before the implementation began.

Remote Installation: Reaching our customers with augmented reality technology
On the day of installation, Zoetis colleagues in sites around the world connected through the eyes of the virtual reality lens into the hatchery operations. Our GBDA experts guided and talked to the customer as they connected the modules, powered them on, and ultimately, guided them through the process of ensuring all equipment was operating properly and the site was prepared to vaccinate eggs against disease. The successful installation allowed the customer to improve operational efficiencies with the higher throughput of Inovoject NXT, including reduced man hours and process time for less biosecurity risk.
"This project would not have been a success without our colleagues' willingness to think creatively and adapt to new technology, both of which are driven by a commitment to support our customers when they need it," said Curt Shuey, Vice President, GBDA. "The commitment to deliver under these tight time constraints is testament to our Core Beliefs of Customer Obsession and Run it Like You Own It., all while working together as One Zoetis. I am proud of this team and their success!"