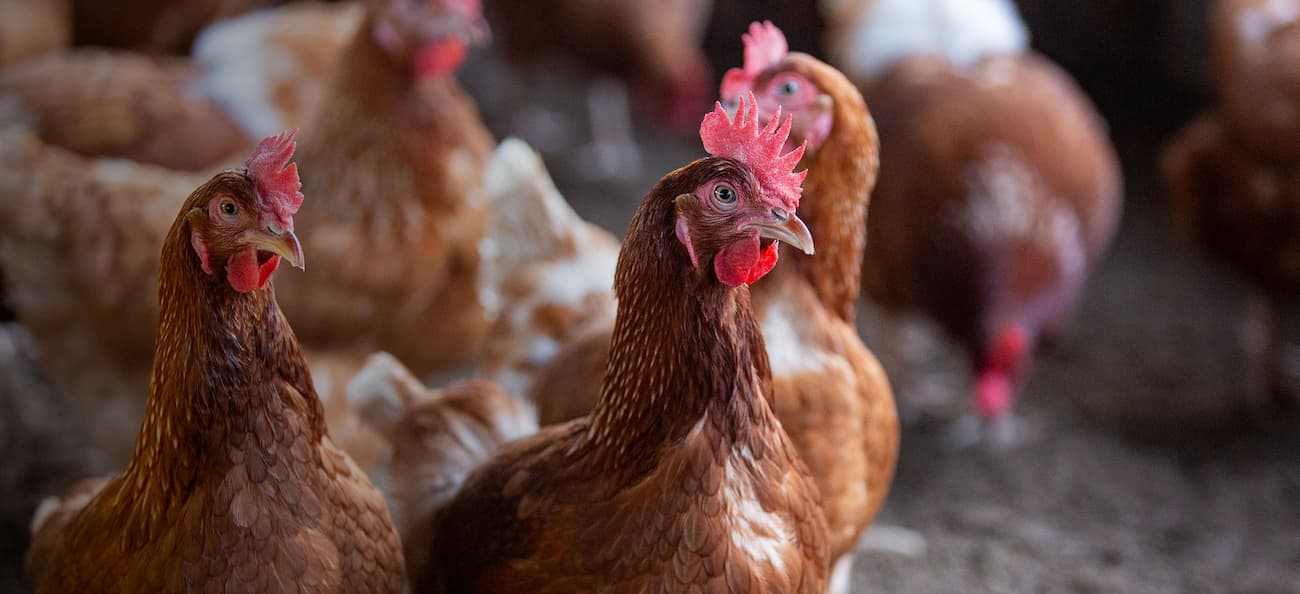 Animals: Innovation in Animal Health
Antimicrobial Stewardship
ASPIRATION
Promote a preventive approach to animal health with positive implications on human health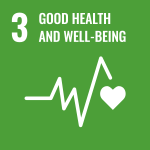 TARGET
Promote responsible use of antibiotics through technical education, introducing antibiotic alternatives, and developing diagnostic and digital tools
2022 PROGRESS
Continued to collaborate with global stakeholders, including the International Consortium for Antimicrobial Stewardship in Agriculture and the Antimicrobial Resistance (AMR) Cross-Industry Expert Working Group of the Business Council for the United Nations.
Continued to lead an Animal Health Institute working group on multiple antibiotic topics and advocating for veterinary oversight of antimicrobial use. These activities include One Health discussions on topics such as duration of use, U.S. Food and Drug Administration's (FDA) Draft Guidance 152 on evaluating the safety of antimicrobial new animal drugs with regard to their microbiological effects on bacteria of human health concern, and World Health Organization antimicrobial list.
Zoetis China, together with the Chinese Veterinary Medical Association and the Small Animal Medicine Branch of the Chinese Society of Animal Husbandry and Veterinary Medicine, released the Diagnosis and Treatment Guideline of Bacterial Infectious Diseases in Dogs and Cats.
In Australia, completed the second edition of a Zoetis-funded Australian Infectious Disease Advisory Panel Antibiotic Prescribing Guidelines for Companion Animals.
TARGET
Innovate around anti-microbial resistance to reduce the dependency on antibiotic classes shared with human health
2022 PROGRESS
In support of the U.S. FDA's Guidance for Industry 263 (which outlines plans to transition all remaining over-the-counter products containing medically important antibiotics to prescription status), all Zoetis over-the-counter labeling has been revised, submitted and approved by the U.S. FDA's Center for Veterinary Medicine.
Launched Apoquel Chewable, which treats itchy atopic dermatitis in dogs, in the EU and UK to provide the same proven medication in a delivery option designed to increase ease of use and compliance to promote treatment success. Increased compliance has been shown to reduce the need for antibiotic intervention.
As the animal health industry strives to reduce the need to use antibiotics and promote a One Health approach, Zoetis' commitment to bringing innovation focused on prevention, genetic testing, diagnostics, data analytics and supporting our customers with responsible use education along with many other factors, has resulted in a steady decrease of our livestock antibiotic sales in recent years.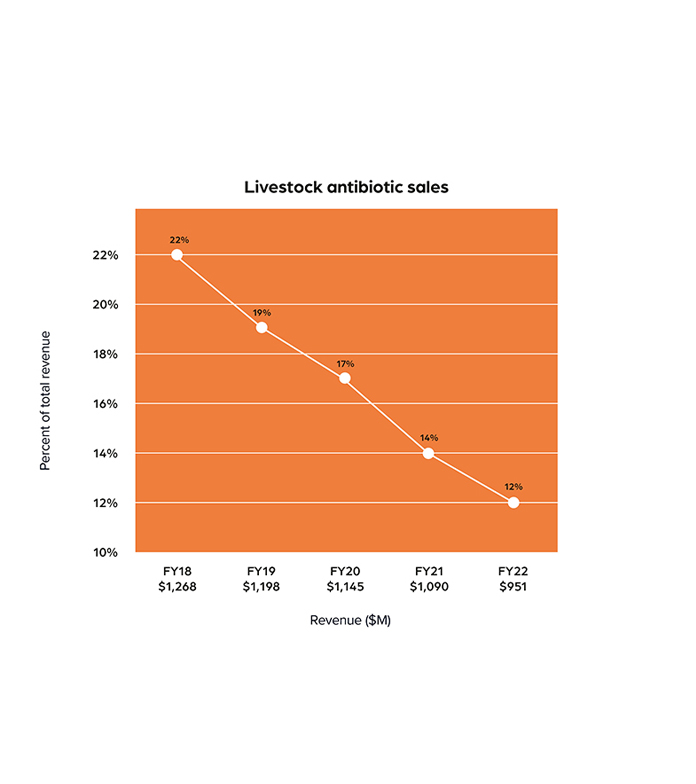 Alternatives to Antibiotics
We are committed to veterinarians having viable treatment options to ensure the health and welfare of the animals in their care. Our innovation approach includes seeking new classes of antibiotics for veterinary use only and exploring novel, non-antibiotic anti-infective solutions. Over the past 20 years, our scientists have initiated 18 projects related to potential solutions for the treatment and control of common disease challenges including necrotic enteritis in poultry, E.coli and swine respiratory disease in pigs, as well as mastitis, metritis, liver abscesses and bovine respiratory disease in dairy and/or beef cattle. Today, half of these projects continue through our research and development process to find the best solutions for our customers that also support our commitment to reduce the dependency on antibiotic classes shared with human health. To simply replace today's extremely effective antibiotics is a monumental challenge, and one that human health is faced with as well. As the leader in animal health, we are committed to responsible use of antibiotics in animals to help ensure these vital tools remain available and effective for treatment of disease when needed.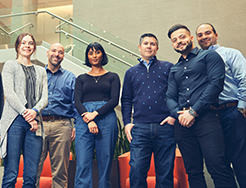 See how our colleagues are making the difference toward a better world by helping us achieve our Driven to Care commitments to Communities, Animals and the Planet.
Learn more

Up Next: Animals
Access to Veterinary
Care in Emerging
Markets