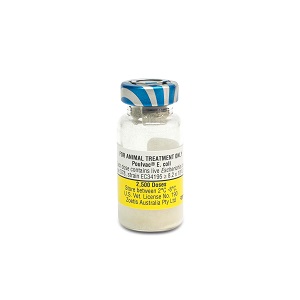 Poulvac® E. Coli
Full-strength E. coli protection.
Poulvac® E. Coli is the only available modified-live Escherichia coli (E. coli) vaccine that is safe for chickens.1 This vaccine provides broad-spectrum protection2 with improved livability and productivity.3,4,5
Product names and label claims for global brands can vary by country. Please refer to your country Zoetis website for exact country details of product names and label claims. As appropriate, please also contact your veterinarian for more information.
1 Data on file, Study Report Nos. TIA 23370 and TIA 21371, Zoetis Inc.
2 Data on file, Study Report No. PPH-0006, Zoetis Inc.
3 Da Costa M, Tri U, Mah C, et al. Vaccination with a modified live E. coli vaccine protects layers against homologous and heterologous APEC strains. Presented at: Western Poultry Disease Conference; 2020.
4 Data on file, Study Report No. PL-178-2007, Zoetis Inc.
5 Data on file, Study Report No. TIA 23663, Zoetis Inc.