ZOETIS EXECUTIVE TEAM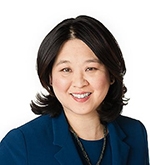 Heidi Chen
Executive Vice President and General Counsel
Heidi Chen was appointed executive vice president and general counsel at Zoetis in October 2012, and as Zoetis's corporate secretary in July 2012. In this role, she is responsible for Zoetis's worldwide legal affairs, compliance and global security.
Since January 2009, Ms. Chen served as assistant general counsel, Pfizer Inc. and chief counsel, Pfizer Animal Health. Ms. Chen joined Pfizer in 1998 and held numerous legal positions supporting Pfizer's pharmaceuticals business, including lead counsel and assistant general counsel for Pfizer's Established Products (generics) business in 2008. She also supported Pfizer's Corporate Internal Audit group. Before coming to Pfizer, Ms. Chen was in private practice at Clifford Chance in intellectual property and at Hughes Hubbard & Reed in litigation.
Ms. Chen serves on the Advisory Board of the Diversity and Flexibility Alliance, a national initiative and forum committed to the promotion, development and retention of women lawyers and work life control for all attorneys.
Ms. Chen earned a Bachelor of Science degree from Yale University and received a Juris Doctorate from Cornell Law School. She also participated in Columbia Business School's Executive Education Program.